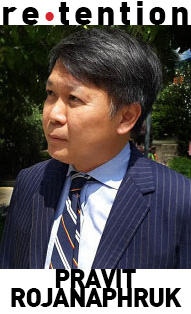 Hearing new army chief Gen. Apirat Kongsompong leave the door open Wednesday to another coup – one he'd likely lead – was like hearing the head of condominium security saying he will seize control if those paying his salary don't behave.
Absurd as it may sound, we should take Apirat's words seriously. After all, this is the Juntaland version of Thailand where coups are not only common, one was led by his late father, Gen. Suthorn Kongsompong, in 1991.
The Thai army is a state within a state. They have staged a dozen "successful" coups over the past 86 years since the 1932 revolt ended absolute monarchy. That's roughly a coup every seven years. Since the most recent was four years ago, another might not be too far away, statistically speaking. The concept of civilian supremacy is still rather alien, not only among some of these rogue generals but also some in the media and public as well.
Thai Post newspaper columnist Pakkardhom on Thursday simply placed the blame on politicians, not rogue generals. "If politicians didn't cheat, soldiers wouldn't have an excuse to stage coups," he wrote.
No wonder Apirat feels he can rely on the press, at least those covering the military.
"Army-beat reporters are like an army unit although you may wear civilian clothes," he told the journalists covering him Wednesday.
Indeed, Apirat resorted to the tried-and-true discourse of the noble, altruistic soldier vs. self-serving politicians when he said to the same group, "We are not politicians. We do not seek anything in return. We do not want people whom we helped to choose us."
There's more, beside presenting itself as free of vested interests, the army is also quick to cite its undying loyalty to the throne.
"Some soldiers might have forgotten this, so let me remind them their supreme commander is the monarch. The army is a servant whose duty and heart are for protecting the monarchy. … [T]he army will use all of its capabilities and capacity to defend the monarchy," Apirat said during his first press conference as army chief.
Unlike politicians who claim a mandate from voters, the coup-maker's claim to alternative legitimacy is two-pronged: First they are supposedly incorruptible, unlike selfish politicians. Second, they are loyal to the monarchy, unlike some politicians who have been painted as anti-monarchist.
With those two big claims, the seemingly absurd act of staging a coup is made "sensible" in the eyes of some Thais, and their mafia-like threats made acceptable if not palatable.
In a way, the new army chief is bolder or more honest than junta leader Gen. Prayuth Chan-ocha, who as army chief in the months leading up to the 2014 coup repeatedly discounted the prospects he would do so, only to then do so.
Apirat is bold enough to be non-committal when it comes to accepting civilian supremacy over the military, thus laying bare the rogue nature of the Thai army.
It's not clear if Thailand should welcome such a candid admission. The new army chief's words serve at least as advance warning to remind us how far Thailand has to go before it can truly keep the army to the barracks for good.
These rogue generals are like condominium guards who have forgotten who feeds them. They have gotten used to every now and then taking control of the building. They are no longer content to just be security guards. They want those who feed them to continue to do so while becoming their master and telling the what to do, or not so, as well.