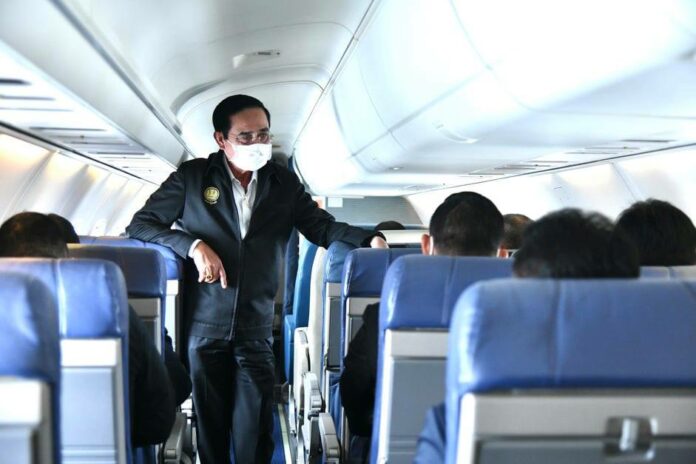 That incumbent Gen. Prayut Chan-o-cha perceives himself as an "experienced pilot" flying an airplane that is Thailand was made apparent when Prayut earlier this week asked voters to "re-elect" him because he is an experienced pilot who has been flying the Thai plane over the past eight years and not vote for "a teenager" to fly the aircraft.
"Be assured that we will arrive [at the destination] because a pilot like me is experienced and knows all the problems. If I could solve all the problems, I would have done … If you want an able pilot, get an experienced pilot," Prayut told voters in Udon Thani province on Monday.
If you are a Prayut's supporter, then that analogy may sound good.
"[We] have been traveling safely for eight years. Why would we risk changing the captain for some inexperienced [pilot] … when the old one still volunteers to fly?" commented one Prayut supporter on pro-Prayut media, Top News.
The same analogy led another Thai social media user to a different conclusion when the person wrote online that because of Prayut, the plane has not been flying for eight years now. To this Thai, Prayut is not even a pilot and he along with his deputy, Gen. Prawit Wongsuwan, did not know how to fly so Thailand has been grounded motionless on the runway for the past eight years now.
Skeptics can spot the flaw in such a false analogy of Prayut being a pilot almost immediately, however.
First, Prayut originally came to power through an act of power seizure during the May 2014 coup that made himself junta-leader-cum-PM. He then tweaks the rules in his favor so he could return as an "elected" PM after the 2019 elections, chiefly by making sure he has 250-junta-appointed senators to vote for him as the next PM.
That's why Prayut made it back as PM after the 2019 general election and he is counting on them again next month although he will now have to compete for the senators' vote with his former deputy junta leader Gen. Prawit Wongsuwan (formerly a co-pilot?), who is now also competing with Prayut among others for the "pilot" post.
Yes, the 2017 junta-sponsored charter was narrowly approved through a referendum that gave junta-appointed senators the special power to vote for the PM (along with elected MPs) for a period of five years but under a restricted junta-control environment and the threat that if the public did not endorse the charter, Prayut will remain even longer in power as a dictator.
This means Prayut is no "experienced pilot" as claimed, but leader of a rogue army which seized control of the plane and kicked the legitimate pilot off the plane. Don't even start asking me if this imposter by the name "pilot Prayut" is qualified to fly.
Enough for the flawed Prayut the "experienced pilot." Another common analogy deployed by anti-junta Thais is that Prayut is like a chief security guard at a condominium who have forcefully seized control of the residential building against the consent of the majority of the co-owners.
This means Prayut is illegitimate from the very beginning, and he has been overstaying in power way too long. It would not be easy to boot Prayut out as he and Prawit still have the junta-appointed senate, the rogue army and the deep state (a credible source told me the deep state will not accept a government runs by Move Forward Party which seeks to amend the lese majeste law, BTW.).
Thais love analogy and metaphor, for better or worse, and it matters little to many of them whether it's a false analogy or not as long as it suits their political agenda.
Away from the pilot and security guard analogies, yet another voter wrote on social media, comparing herself and the rest of the Thai voters to a woman. Then there are three men. The first man is the current boyfriend who has been around over the past eight years, aka Phalang Pracharath Party. "He talks about love but it's all intangible … as I am suggesting a breakup, he then makes loads of promises."
Pheu Thai Party is compared to an ex-boyfriend who wants to make up for past mistakes "but I would have to take all the risks because he might again go back to the other woman."
Then comes the latest suitor, aka Move Forward Party, who is not accepted by the girl's parents but keeps waiting for her with a solid promise and is also "actually handsome."
Now, I do not want to waste more time debunking this last false analogy, but you can perhaps enjoy yourself.