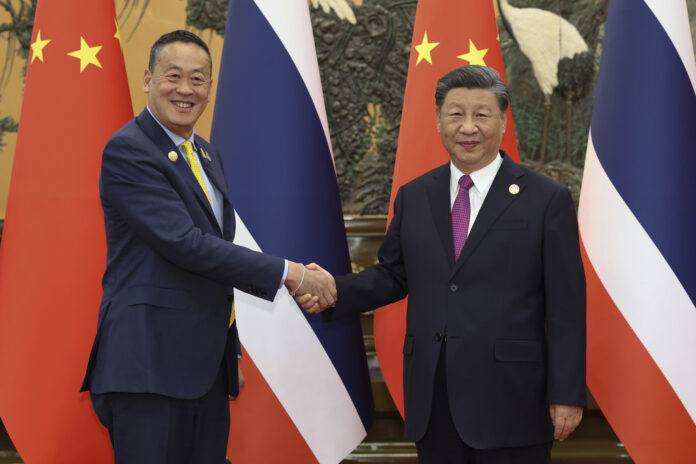 We are seeing more of the type of diplomacy the new prime minister is engaging abroad and there is valid cause to be concerned. PM Srettha Thavisin was in Beijing a few days ago as part of the gathering of leaders from 130 nations attending China's 10th anniversary of Belt and Road Initiative (BRI).
It was there that the new PM, who was on a four-day visit to China, spoke at a Thai Board of Investment (BOI)-organized forum in Beijing in front of many potential Chinese investors and verbally degraded Thailand's stature by describing China as Thailand's "elder brother."
Here's the quote: "It is like the saying that China and Thailand are not far from being siblings, but I would like to confirm that China is the elder brother. I hope this visit will lead to positive results for tourism, including increased visa exemptions."
Srettha might be well-intended, but he was too eager to please and sell Thailand to Chinese investors that he ended up, for the record, characterizing Thailand as a lesser nation compared to China.
We are not in the age of mid Ching Dynasty, when China thought of itself as the center of the universe, and Siam for a period nominally kowtowed to Imperial China. There is absolutely no need for PM Srettha to praise China by degrading Thailand through such a major diplomatic faux pas.
Srettha could have said things like: "China has proved herself to be an example in many aspects for other Asian countries to emulate and its economic and technological success is an inspiration to smaller Asian nations like Thailand to emulate, blah, blah, blah."
Srettha, a former real estate tycoon, can think and describe Thailand as whatever he likes as a private citizen, but as Thai prime minister, he must be aware that he carries the dignity of the whole nation with him and must not appear subservient to another foreign state. I don't think many Thais would want to characterize themselves as China's little brother or sister, or a younger sibling of the U.S. for that matter. To stretch this characterization, a brief introduction of a Thai abroad to foreigners unfamiliar with Thailand may sound like this.
"Hello. My name is Somchai, I come from Thailand. Please do not confuse Thailand with Taiwan even though it sounds similar, and our prime minister recently said China is like an elder brother of Thailand…"
Chinese President Xi Jinping was quick to exploit Srettha's diplomatic blunder by "pledging to add new dimensions to family-like bilateral relations" when he met with Srettha on Thursday, according to China's mouthpiece state media Xinhua. Xi was quoted as saying the two countries "should speed up construction of the China-Thai railway," Xinhua News Agency stated.
Now, in the Asian context, it is probably hard for a younger brother to say no to the elder brother, right?
In another diplomatic overture, or blunder, while in Beijing, Srettha controversially held a bilateral talk with Russian President Vladimir Putin. While Russian netizens were wooed by Srettha's shocking pink socks as he sat with Putin, Polish body language reader Dalekowschodnie Refleksje (@dal_ref) gave a damning assessment of Srettha's body language on X.
"I have never seen a politician as scared and stressed as the new Prime Minister of Thailand. Srettha Thavisin, during his meeting with Putin points his entire body, torso, knees, head and feet towards the Russian autocrat, and to mentally prepares to talk to him by shrinking his body and trying to take up as little space as possible. He adopts a submissive attitude towards a more powerful and experienced player. Extensive experience in management and business does not always translate into self-confidence in foreign policy. Severe stress makes him very sensitive to sounds and movements around him, hence the violent shaking of his head in all directions. In this way, the brain tries to spot potential threats that may need to be faced… Thavisin touches the papers on the table right after Putin puts his document in front of him which may indicate a mind susceptible to guidance and suggestions sent by a stronger actor. His stress is also evidenced by an artificial [Thai] smile directed at Putin… in combination with another signal of submission – lowering the head and shoulders…. What is the lesson for our [Polish] politicians from this meeting? People who are weaker at managing their emotions and have lower self-esteem (can be easily measured by observing body language and listening to politician's statements on TV)…"
That was a damning interpretation of Srettha's body language while meeting Putin. I am no body-language expert, but it seems our new PM was nervous and awkward. More important however is how Srettha, as Thai PM, decided to sit down for a one-on-one meeting with a leader of a country that is invading another sovereign state and killing citizens of Ukraine daily – and what it says about Thailand today with Srettha at the helm.
One may now call him the Salesman PM, as it seems he is willing to deal with any leader disregarding the optic and consequences on Thailand's international standing and dignity.
I am reminded of a senior Thai student at the same dormitory when I was an undergraduate abroad. He was a former salesman doing an MBA and once he said as a salesman, there is nobody you cannot praise in an attempt to sell something as you can always be able to spot something positive from even the most horrible person while ignoring the person's negative traits. Now I am reminded of Srettha.
Is there a redline to Srettha's salesman diplomacy? Will PM Srettha be flying to Nyepidow to officially meet Burmese junta leader Min Aung Hlaing to sell more Thai goods or off to Pyongyang for a meeting with Kim Jong Un to sell durians next?