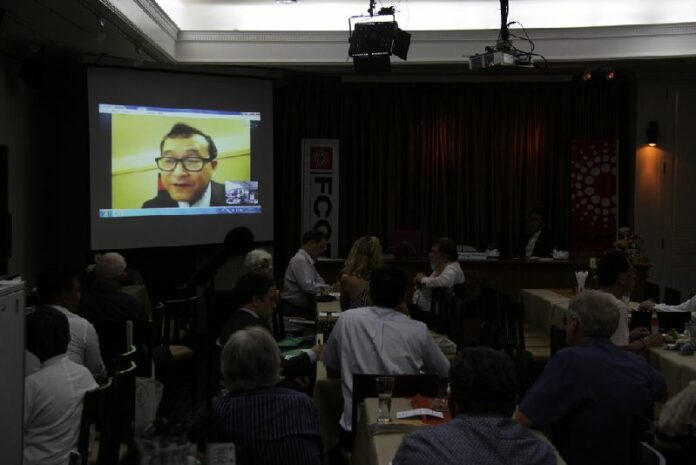 BANGKOK – Cambodian opposition leader Sam Rainsy spoke to the audience at Foreign Correspondent Club of Thailand (FCCT), central Bangkok, via Skype last night after the Thai immigration officials denied him entry to Thailand.
Mr. Rainsy has been away from Cambodia since 2009 to escape what he described as "politically-motivated" court case. He has been an outspoken critic of the Cambodian Prime Minister Hun Sen, who has been in power since 1985.
Initially, Mr. Rainsy was scheduled to chair a book launch event of his new work, "We Did Not Start The Fire: My Struggle for Democracy in Cambodia", at FCCT but was turned away at Thai airport by the immigration police, in an episode that might have resulted from the close ties between Mr. Hun Sen and Thai former Prime Minister Thaksin Shinawatra, whose sister Ms. Yingluck Shinawatra is currently in power.
Nonetheless, the show did go on, and Mr. Rainsy used Skype video call to speak to the crowded audience at the FCCT last night – a move that is reminiscent of Thaksin′s playbook (Mr. Thaksin, himself a politician living in exile, is well known for his regular phone-in or Skype-in to his supporters).
Speaking from Singapore, Mr. Rainsy began his talk by urging the international community to treat Cambodia′s upcoming election in July as "illegitimate" and refrain from recognizing any new government that is born out of it. Mr. Rainsy reasoned that the July election will be unfair and full of vote-rigging like previous ones.
He said the Cambodian authorities should delay the election and make sure it will be a free and fair one instead of "a farce on time". Mr. Rainsy also insisted that international monitors are not needed to observe the upcoming election in July because the outcome is already determined that sending monitors "to observe the farce" would be merely "waste of taxpayers' money".
"The Cambodian authorities bully the opposition. They know we are getting more support. They are afraid of us, that is why they put pressure on us," Mr. Rainsy said, accusing the Cambodian authorities of "block the country′s democratic evolution".
Throughout the talk, Mr. Rainsy told the audience that Cambodia is "stuck in Cold War", a "Communist-style", "Banana Kingdom" ruled by "Mafia State".
Asked to elaborate on what happened to him at the Thai airport the day before, Mr. Rainsy said he was flying from South Korea to Thailand, only to be met with "high-ranking" immigration official who told him he could not be allowed out of the airport. However, Mr Rainsy said he was told he is welcomed back "after July".
Mr. Rainsy said Cambodian government might have pressured the Thai authorities to keep him as farther away as possible in the election period, because he was the only credible challenger to Mr. Hun Sen.
"Hun Sen wants to box alone. He′s afraid just to see me approaching the boxing ring," Mr. Rainsy said.
The host asked him whether he thinks the policy results from relationship between Mr. Thaksin and Mr. Hun Sen, but Mr. Rainsy said he did not know much about "Thai side".
A member of the audience asked him if he would ever go back to Cambodia. "Once they have free and fair election, I will be there," Mr. Rainsay answered.
Wouldn't it be better to stay in Cambodia and fight for change from inside, a reporter asked.
"King Narodom Sihanouk led the resistance for Cambodian independence from abroad too," Mr. Rainsy said, adding that even though he is physically away from Cambodia, he is virtually everywhere in Cambodia, like Facebook and Twitter, and that "I'm not the only one Rainsy. There are millions of Rainsy in Cambodia".
Answering the question about Mr. Hun Sen′s proposal to criminalize denial of Khmer Rouge genocide, Mr. Rainsay told the audience he accepts the principles of the law, but took jabs at Mr. Hun Sen by claiming that he would be punished under his own law because the Cambodian government has been denying justice by obstructing legal procedures against Khmer Rouge war crime suspects.
Asked if there′s anything he wants to address the public, Mr. Rainsy said that "the wind of freedom is blowing all over the world", and that it will surely arrive in Cambodia one day.
"Maybe it will reach Thailand first and go to Cambodia later!" he added, drawing laughter from the crowd.