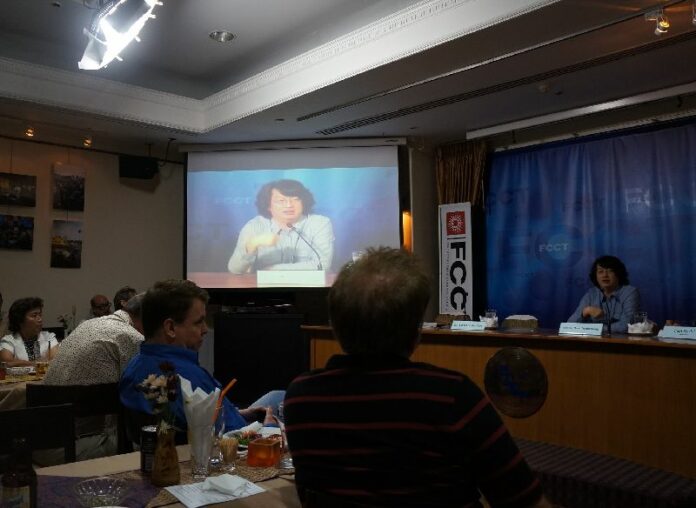 (8 November) The coordinator of the more progressive faction of the Redshirts has called on the movements to establish their own political party and be independent from what he called the exploitative nature of the Pheu Thai Party.
Mr. Sombat Boon-ngarmanong, who prefers to be referred to as ′horizontal leader′ (แกนนอน) rather than a vertical one (แกนนำ), was speaking as a panelist at the event hosted by Foreign Correspondent Club of Thailand (FCCT) in Bangkok.
He was slated to speak alongside two other prominent Redshirts leaders: Ms. Thida Tojirakarn, chairwoman of the National United Front of Democracy Against Dictatorship (UDD), and Mr. Jatupon Prompan, who had also served as an MP of Pheu Thai Party.
However, Ms. Thida and Mr. Jatupon cancelled their appearance in the last minute, citing security concerns, as thousands of anti-government protesters were converging just few metres away from the building where FCCT is housed to voice their anger against the government′s ′blanket amnesty′ bill.
The panel came at a time when the Redshrits are believed to be experiencing a deep rift with Pheu Thai Party following the party′s push for the ′blanket amnesty′ deal that would let those responsible for authorising the bloody crackdown on Redshirts protests in 2010 to be absolved of any legal accountability.
The panel was also co-chaired by Mr. Yukti Mukdawijitra, an academic who has studied extensively on the Redshirts movements.
Mr. Sombat told the audience via an interpreter that the division between Pheu Thai Party and its longtime ally the Redshirts is very "serious", and that is very interesting.
"In my estimates, 80% of Redshirts are angry at Pheu Thai," said Mr. Sombat, "Their anger suggests that Redshirts are finally feeling their own power. They feel they own these politicians,"
That anger can translate into real political consequence, according to Mr. Sombat, as it means Pheu Thai would lose substantial votes among its supporters in the next election. He cited his own experience. "I have a problem now. I am not sure who to vote for anymore. I′m sure many Redshirts are confused, too".
While some Redshirts are bound to defend the current government from the attempts by anti-government factions to overthrow it ("because they feel they built this government"), and while Pheu Thai might try to reconcile the Redshirts into its fold, the UDD and Pheu Thai cannot coexist anymore because the Redshirts now feel they had been betrayed by their allied party, Mr. Sombat said.
According to the activist, how Pheu Thai Party tramples on the rule of laws in its pursuit of ′amnesty for all′ also help prove the Yellowshirts right that politicians are evil.
If the ongoing political turmoil ever leads to dissolution of the Parliament, Mr. Sombat warned, Pheu Thai Party might not emerge from a new election as ruling party because it has alienated so many votes from the Redshirts and the swing voters, while even the 17 million Thais who had refused to vote in previous elections might simply decide to go to ballots this time just to punish Pheu Thai Party.
As the rift between the UDD and Pheu Thai Party is in full view, the Red Sunday activist urged the Redshirts to form their own political party to push their own agenda, independent of Pheu Thai politicians′ attempt to subvert the movements.
He also shared his analysis of the factors that had led to the current conflict between the Redshirts and Pheu Thai, noting that "those pushing for democracy uses election to achieve it, while those pushing for electoral victory uses democracy as the rhetoric to achieve it," hence dividing the movements into democratic activists and electoral politicians.
"We want to see politicians who are also believers of democracy. We like to say we are believers of democracy and that the other is not," Mr. Sombat said, "But it isn′t true. There are people who exploit democracy in both sides."
He continued, "Look at the anti-amnesty protesters. They have legitimacy to oppose the government. It is good when people examine their government. They feel like they have power in this nation. But what I feel bad about Yellowshirts is that they are obsessed with the issues of personality and the institution [of the monarchy] when they talk about democracy. That made them look backward".
Both Yellowshirts and Redshirts, in Mr. Sombat′s belief, can compliment each other in Thailand′s quest toward democracy, as the Yellowshirts focus on shaping the personality of who should be allowed to rule Thailand, while the Redshirts focus on building institutions that would keep check and balance on those politicians. "All sides should do their jobs", Mr. Sombat added.
Yet, the conflict between the two colours arises, and Mr. Sombat believes it is due to the each side′s attachment to personalities.
"The Yellowshirts are obsessed with the monarchy … They see His Majesty the King as a god," Mr. Sombat complained, "And the Redshirts falsely view Thaksin as champion of democracy. They see him as a god of poor people", so the conflict boils down to the battle of personalities – about arguing whose hero is better.
"Maybe we Thais don′t like to talk about principles," Mr. Sombat lamented.