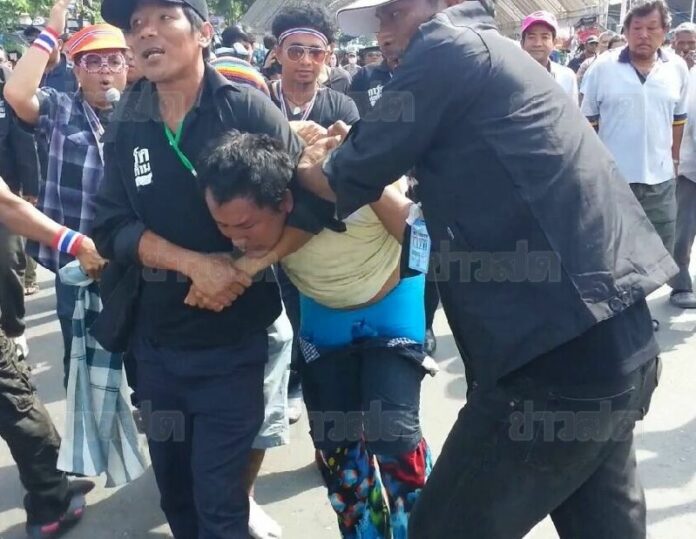 (19 November) Volunteer guards of the anti-government protests at Ratchadamnoen Avenue have apprehended a man who claimed to be a paid agent of the rival pro-government Redshirts.
The man, in a yellow shirt, caused a scene at 10.30 today by lifting plastic chairs at the protest campsite and started hitting random protesters who were relaxing in their tents. The protesters then responded by beating up the man and subduing him, before the security guards in the area rushed to separate him from the crowd.
After a brief interrogation behind the rally stage, the man, who did not give his name, said he had been paid 200 baht by the National United Front of Democracy Against Dictatorship (UDD) to infiltrate the anti-government protests and commit violent acts along with two other accomplices who, he claimed, had escaped amidst the chaos.
However, the man refused to name the persons who hired him and his specific objectives. The anti-government guards later escorted him to the police for further legal prosecution.
The UDD is also organising a mass rally in Bangkok today to show support for the government.
For comments, or corrections to this article please contact: [email protected]
You can also find Khaosod English on Twitter and Facebook
http://twitter.com/KhaosodEnglish
http://www.facebook.com/KhaosodEnglish