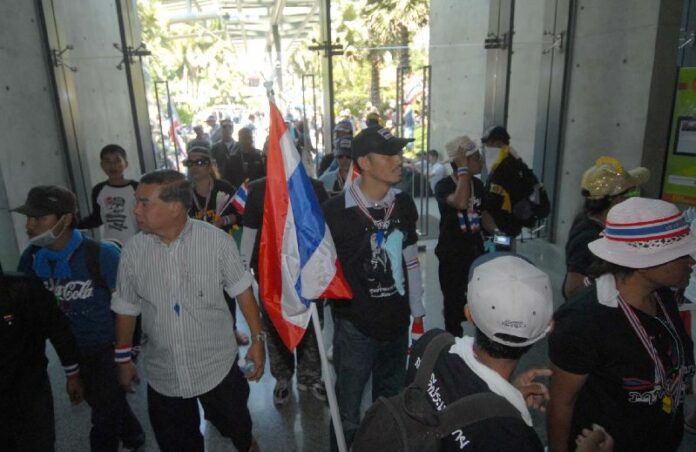 (2 December) Media associations have spoken out against the campaign of widespread press intimidation by the hands of the anti-government protesters.
Anti-government protesters have besieged or entered the compounds of state televisions headquarters, which are Channel 3-11 and Thai PBS, accusing them of biased coverage of the protests.
The protests also demanded the channels to broadcast communiques issued by the protest leadership, which calls itself The People′s Committee For Absolute Democracy With the King As Head of State (PCAD), and instructed them not to report any "pro-government" contents.
But a number of media organisations in Thailand, including the Thai Broadcast Journalists Association (ThaiBJA) and Thai Journalist Associations (TJA), has jointly issued a statement today decrying actions of the PCAD, calling them "intimidation" of the freedom of the press and "contradictory to the principle of democratic system".
Furthermore, the statement called on the anti-government protesters to cease their hostile acts against members of the press.
It also advised the media agencies to halt all their broadcasting operations rather than giving in to protesters? demands that they broadcast their choice of materials. The advice follows the incident of state-owned TV channels agreeing to broadcast live statement of PCAD leader Suthep Thaugsuban on their airtime, after the channels have been surrounded by the protesters.
"Editors and members of the press in all TV stations must stand by their principle [of press freedom]," the statement reads, "Especially the Thai PBS station, which is a public-funded media with its commitment to impartiality enshrined by the laws".
The anti-government protests have additionally drawn criticism from international media freedom advocates in the wake of the protesters? physical and verbal assault on a German freelance photojournalist, Mr. Nick Nostitz, last week after a protest leader accused Mr. Nostitz of being a pro-government journalist.
One of the condemnations came from Reporters Without Borders, which describes the attack on Mr. Nostitz as "unacceptable".
"This kind of attack on a reporter who had an armband clearly identifying him as a journalist casts serious doubt on the protest movement's legitimacy," the organisation says in a statement.
Moreover, the statement notes that while there is a lack of impartial state TV coverage of the protests, "this does not give demonstrators grounds for focusing their frustration with the government on the media".
For comments, or corrections to this article please contact: [email protected]
You can also find Khaosod English on Twitter and Facebook
http://twitter.com/KhaosodEnglish
http://www.facebook.com/KhaosodEnglish