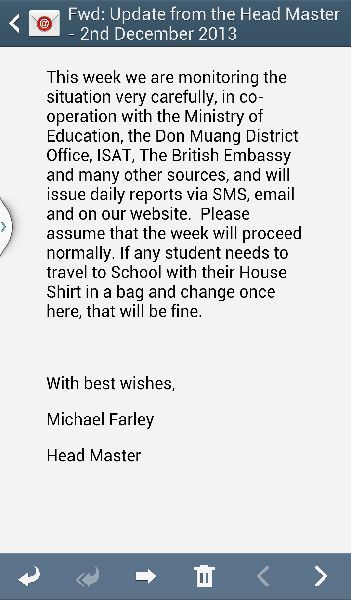 (30 November) A group of anti-government protesters has attempted to ambush the 11 year old son of Prime Minister Yingluck Shinawatra at his school.
A source inside Prime Minister′s security team told Khaosod that some parents at the school who are hostile to the government have organised the campaign to blow their whistles at the boy, Supasek Amornchat, when he arrives at the school.
The group also sometimes shouted verbal abuse at Ms. Yingluck′s son, but the source did not say how long has the practice been going on.
In an emotional plea on Saturday, Ms Yingluck Shinawatra urged parents of other children at school to leave her son alone.
"I beg, if you have children you?ll understand the heart of a mother. If you?re angry, please make it all about me." she said.
The latest incident of harassment was said to take place on the afternoon of 28 November, when a black pick-up truck, bearing license plate registered in Surat Thani province – a stronghold of the Democrat-led anti-government protests – pulled up at the school compound.
4-5 men wearing black shirts with Thai flag headband were seen sitting inside the car, but they left the school as soon as a security guard approached them to inquire about their visit. Security officials believe the men were planning to ambush PM Yingluck′s son with their symbolic protests.
Police officers in Wang Thong Lang district of Bangkok also told Khaosod that there had been a bomb threat made to a school in the area where Supasek regularly attends for tutorial sessions.
However, Mr.Michael Farley, the Head Master of Harrow International School in Bangkok has made statement that "rumours" circulating about politically motivated attempted security breaches at School are untrue. Nevertheless he request that all parents support the School by ensuring that no politics are brought on Campus.
But few days later, Mr. Farley issued an email to parents acknowledging that there have indeed been a small number of political gestures being made at the school in the past few days.
In the email, which was reviewed by Khaosod, Mr. Farley admitted that there has been
whistling and name calling aimed at "student from a prominent family and his security staff".