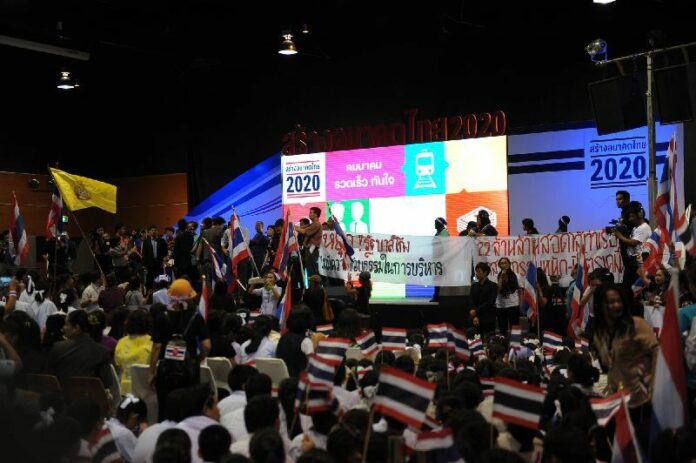 (30 November) Hundreds of anti-government protesters in Songkhla province have stormed the venue of roadshow exhibition promoting the government′s plan to construct high-speed rail system.
The transportation overhaul project, which is expected cost 2.2 trillion baht and due to complete in 2020, is opposed by critics of Prime Minister Yingluck Shinawatra.
Transport Minister Chatchart Sittipan and Minister of Finance Kittirat na Ranong were slated to give keynote speeches at the exhibition in Songkhla, but security concerns have forced the government to assign the role to the Governor of Songkhla and a high ranking official from the Ministry of Transport.
Before the show started, however, 400 protesters rushed into the exhibition hall, occupying the stage and giving speeches critical of the government. A protest leader said it is unacceptable if a corrupt government is allowed to organise such events in Songkhla.
The protesters also unfurled a banner which alleged that the 2.2 trillion baht project is a potential ground for massive corruption.
Mr. Krisada Boonraj, Governor of Songkhla, later went on stage and assured the protesters that no Cabinet member would be attending the exhibition. He also offered to cancel the events for the day in exchange with the protesters? departure from the exhibition hall, which was agreed by the protesters.
However, the protesters also erected a stage just outside the exhibition hall where they continued to rally. Scores of police officers kept close watch of the protesters nearby.
The latest wave of political tumult has brought doubts over the fate of the highspeed rail project. Ms. Yingluck was quoted as telling the Ambassador of the United Kingdom yesterday that the project might be "delayed".
For comments, or corrections to this article please contact: [email protected]
You can also find Khaosod English on Twitter and Facebook
http://twitter.com/KhaosodEnglish
http://www.facebook.com/KhaosodEnglish