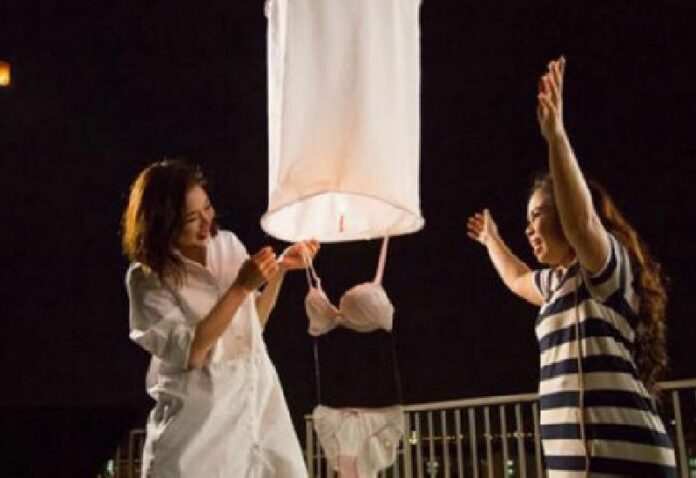 (30 November) Facing criticism from conservative activists and Netizens, the producers of the ghost-comedy film ?Oh! My Ghost? have issued an apology over a scene in which the characters released a traditional balloon lantern attached with a set of women underwear.
The scene was criticised by many on the social network as insulting toward the culture of the northern region, the original home of the ?Yee Peng? hot-air lantern, which is now popular in other parts of Thailand.
Mr. Natee Teerarojanapong, a well-known conservative activist, also staged a protest with his group ?Civilised Chiang Mai? in Chiang Mai province. He called the lingerie-lantern scene a "blasphemy", since it disrespect local religious and cultural beliefs.
He called on the state censorship authorities to work harder to ensure that all cultural or traditional objects were portrayed appropriately in movies. "If any film maker would like to use any custom or tradition in their film, they should have carefully studied about the practice," Mr. Natee was quoted as saying.
Mr. Natee added, "The destruction of Thai culture is not caused by outsiders or foreigners, but it is caused by Thais who lack the consciousness of their own art and culture"
For many Thais, women underwear is seen as a lowly object.
Meanwhile, Sahamongkol Film International and WorkPoint Picture, the firms behind the making of "Oh! My Ghost" have issued an apology.
Citing that the scene may "disparage beliefs or disrespect norms and culture", the firms, including the director, actors and crews expressed their sincere apology for not considering the issue thoughtfully, the statement reads.
In response, the crew will remove the scene from the movie, which was already released to many cinemas. However, the statement warned that the scene may still appear in some cinemas due to technical difficulties.
For comments, or corrections to this article please contact: [email protected]
You can also find Khaosod English on Twitter and Facebook
http://twitter.com/KhaosodEnglish
http://www.facebook.com/KhaosodEnglish