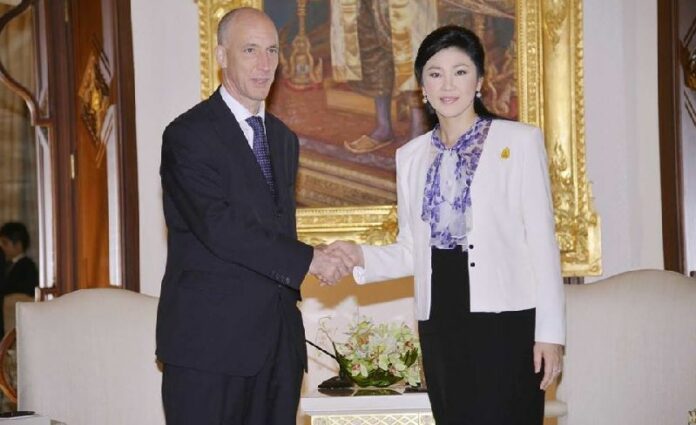 BANGKOK — (30 November) The British Ambassador to Thailand, Mr. Mark Kent, has expressed his concerns over the political unrest during his visit to Prime Minister Yingluck Shinawatra yesterday.
According to Mr. Teerat Rattanasevi, Prime Minister Office Spokesman, Mr. Kent had discussed with Ms. Yingluck about the current political situation in the country after the protest had occupied many administrative headquarters throughout Bangkok.
"The British Ambassador said he wishes to see the negotiation between the government and the anti-government protesters. He also stated that Britain support political protests as a feature of democratic nation, but they must be within the boundary of the laws," the government spokesman said.
Mr. Teerat added that "Mr. Kent disagreed with the occupying of government administrative offices, at which point the Prime Minister assured him that the Thai government will not use force against the protesters".
"The Prime Minister also wishes to see the negotiation to avoid the confrontation between two sides, which is very well agreed by the British Ambassador," said Mr. Teerat.
During the discussion, the Prime Minister reportedly insisted to Mr. Kent that many government offices can still operate properly, despite the occupation.
However, according to Mr. Teerat, Ms. Yingluck replied to Mr. Kent′s question regarding the two-trillion baht infrastructure development scheme that the government may have to delay its proposal at this time.
The United Kingdom is not the only nation expressing its concerns over the ongoing crisis, as the United States, the United Nations and China have previously sent letters to the Prime Minister asking for negotiations between the Government and the protesters.
However, anti-government protest leader Suthep Thaugsuban has rejected any chance of negotiation with the government.