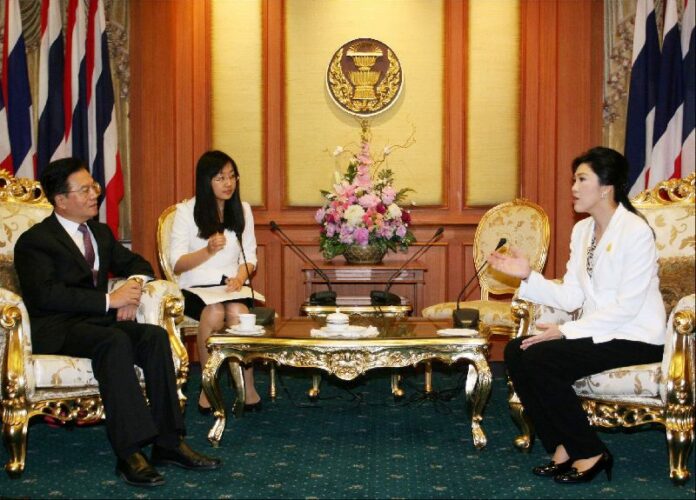 (28 November) The Chinese Ambassador to Thailand has praised Prime Minister Yingluck Shinawatra′s reluctance to employ violence against the anti-government protesters who had occupied a number of governmental buildings in Bangkok.
In his visit to Government House yesterday – just a few blocks away from the main campsite of the protesters – Mr. Ning Fukui said he was glad to see that Ms. Yingluck is handling the ongoing crisis in a peaceful, restrained manner.
During the meeting, both the Chinese ambassador and Thai leader discussed the two countries? warm relations and touched on the possibility of the future infrastructure development. The Chinese government has previously offered to assist Thailand in its 2.2 trillion baht investment on construction of public transportation, including high-speed rail.

Mr. Ning said he was deeply concerned by the protests, which saw anti-government protesters led by former Democrat MP Suthep Thaugsuban seizing or besieging headquarters of four Ministries in Bangkok.
He also offered to assume the role of the mediator to solve the current political turmoil within the principle of Thai democracy.
Mr. Sukree Sitthiwanich, deputy Governor for Policy and Marketing Plan, Tourism authority of Thailand, also announced this morning that 28 countries have already issued travel warnings for their citizens concerning the political crisis in Thailand. Among the latest were Russia, Australia, Ireland, Switzerland, and Hong Kong.
Meanwhile, Secretary-General of the United Nations, Ban Ki Moon, expressed his concern about the rising tension in Bangkok, according to his spokesman.
"The secretary-general calls on all sides to exercise the utmost restraint, refrain from the use of violence and to show full respect for the rule of law and human rights," the statement noted.

However, the anti-government protesters, who are seeking to overthrow the government of PM Yingluck, show no sign of backing down; the protesters appear to be increasingly confrontational in their campaign against the government by launching additional protests against several provincial town halls.

Earlier today, the protesters went as far as cutting electricity to the compound of the Royal Thai Police headquarters in central Bangkok. A public hospital which locates on the same compound was affected by the blackout, leading to an urgent evacuation of its patients.
The police have made no attempt to disperse the protesters.