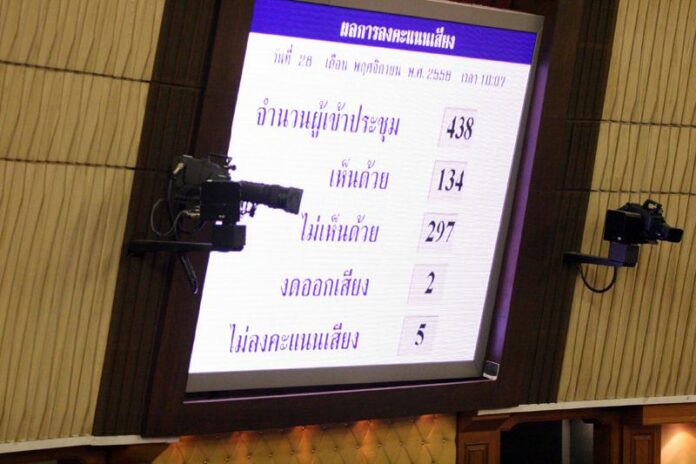 (28 November) Prime Minister Yingluck Shinawatra survived the no-confidence vote following two-day debate in Parliament, with anti-government protests raging just few intersections away outside the building.
Ms. Yingluck comfortably won the votes of 297 to 134 to remain in her position.
Mr. Jarupong Ruengsuwan, Minister of Interior, also made it through a no-confident vote after he won 296 to 135 votes.
Acknowledging the result, Mr. Jarupong glanced to the Prime Minister and gave her a thumb up and a smile.
After the vote, Mr. Somsak Kiatsuranon, the speaker of the House of Representatives, reported the overall performance, before Mr. Wichak Nakwatchara, secretary-general of the House, closed the meeting within 15 minutes.

The apparent haste of the procedure reflects the fear prevalent among Pheu Thai Party members that the opposition party might initiate a surprise tactic to disrupt the parliamentary vote.

Leaders of Pheu Thai Party had even instructed their MPs to spend the night inside Parliament compound prior to the vote, out of concern that the Democrat Party might prevent the Pheu Thai MPs from entering Parliament later.