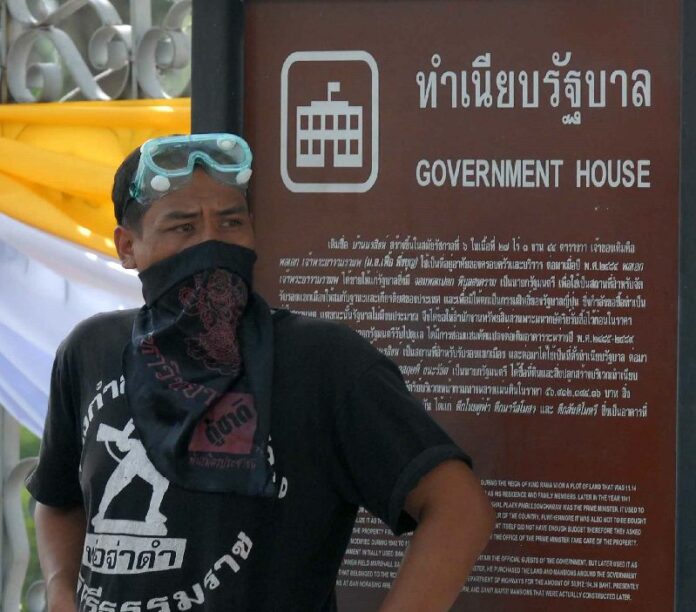 (4 December) Commander-in-Chief of the Royal Thai Navy has insisted the military did not pressure the government into any negotiation with the anti-government protest leaders.
Admiral Narong Pipattanasai also stressed that the armed force did not push for any condition to Prime Minister Yingluck Shinawatra when she sat for dialogue with the leader of the protesters, former Democrat MP Suthep Thaugsuban, earlier this week.
"The military served only as a mediator," said Admiral Narong.
His comment came at a time when many observers of Thai politics are frantically searching for clues what has been said behind the closed doors between PM Yingluck, Mr. Suthep, and the military chiefs.
The government′s silence on the full contents of the negotiation only adds to the suspense; it was Mr. Suthep who announced he had met and talked with Ms. Yingluck in the presence of commander-in-chiefs of the armed forces.
The inclusion of the military top brass led to speculation that the military, who has ousted Ms. Yingluck′s brother former PM Thaksin Shinawatra in 2006, might be yet again pressuring the government to resign.
But Admiral Narong was adamant during the press conference at the Navy headquarters earlier today that the armed forces are not contemplating another military coup, even if the government and the protesters failed to reach an agreement.
"We have had many lessons about this in the past," Admiral Narong said, "I don?t want such thing to happen again".
The Admiral added that the chiefs of the three military branches had already discussed about the coup d?eta and all of them had come to conclusion that the armed forces will not take any leading role in the ongoing political crisis.
The Navy commander-in-chief also told reporters that the situation has not reached a "dead end", and expressed his belief that politicians and academics in political science are better equipped in guiding the nation out of the crisis peacefully than the military.
"The armed forces are not experts in politics. We cannot give any advice," the Navy chief said, "As far as I have listened from many academics and private sector representatives, there are many ways that could be good solutions. It depends on both sides which way they would choose".
"But the military, especially the navy, are not involved or having any role in this event. We are trying to be in an appropriate position," Admiral Narong stressed.
Nevertheless, he hinted that more negotiations are underway after 5 December – His Majesty the King′s Birthday – but said he could not give any details and directed the media to inquire Gen. Thanasak Patiprakorn, Chief of the Defence Forces, instead as he was the military chief who organised the dialogue sessions.
"The previous dialogues were good starts," said Admiral Narong, "I believe the situation will return to normalcy very soon".
For comments, or corrections to this article please contact: [email protected]
You can also find Khaosod English on Twitter and Facebook
http://twitter.com/KhaosodEnglish
http://www.facebook.com/KhaosodEnglish