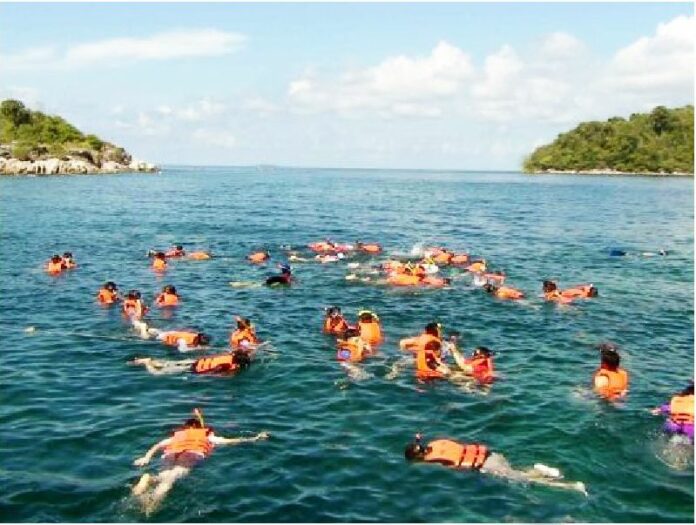 (4 December) Around 200 boat service providers in Trat province have rallied against a new ?diving fee? regulation imposed by Director of Mu Koh Chang National Park.
According to the group, the director, Mr. Weera Khunchaisak, has instructed the park officials to charge tourists who wish to dive in Mu Koh Rang area for ?diving fees? from 1 December onward.
Reportedly, foreign tourists aged 3-14 must pay 100 baht per person and those above 14 are required to pay 200 baht per person as diving fees. Meanwhile, Thai tourists are charged a much lower price: 40 baht per adult and 20 baht per child.
The group of boat providers explained to our correspondent that the rate was imposed without any notification to the foreign tourists, and boat providers were tasked in collecting the fees from the tourists, instead of park officials.
The protesters also demanded that Mr. Weera resign from his position.
Mr. Peera Eiamsoonthorn, District Chief of Koh Chang, later met with the protesters and promised to negotiate with relevant agencies on their behalf.
Director-General of the Department of National Parks, Wildlife and Plant Conservation, Mr. Samak Donnapee, told our correspondent that the new entrance fee is aimed to help his department to raise fund for the park's maintenance, such as cleanup of the area.
However, Mr. Samak said, the department has decided to postpone the regulation to be in effect from 1 June 2014.
For comments, or corrections to this article please contact: [email protected]
You can also find Khaosod English on Twitter and Facebook
http://twitter.com/KhaosodEnglish
http://www.facebook.com/KhaosodEnglish