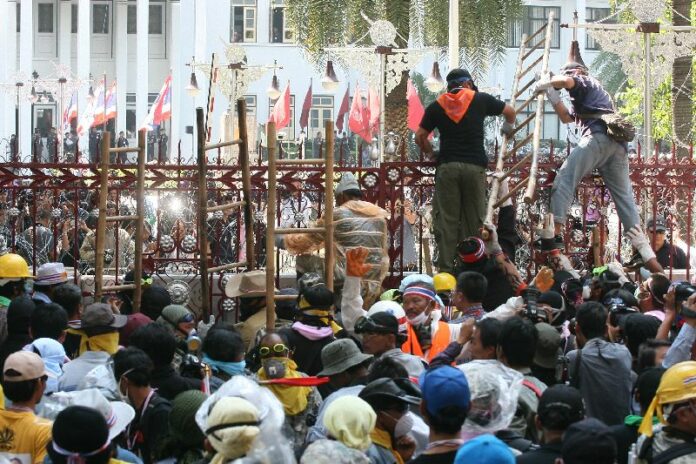 (4 December) Top government officials have spoken out against the anti-government protest leaders? call for a royally-appointed Prime Minister to replace Prime Minister Yingluck Shinawatra.
After a week of intense campaign to overthrow the government of Ms. Yingluck, the protest leader, former Democrat MP Suthep Thaugsuban last night announced his intention to pursue the invocation of Article 7 of the 2007 Constitution, which Mr. Suthep said permits His Majesty the King to appoint a Prime Minister of his own discretion.
The said article reads, "Whenever no provision of this Constitution is applicable to any case, it shall be decided in accordance with the Constitutional practice in the democratic regime of government with the King as Head of the State".
Mr. Suthep also repeated his proposal of an unelected ?People′s Council? to be established as the governing body of the nation instead of Ms. Yingluck′s elected government. However, details of the ?People′s Council?, such as its potential members or boundary of powers, remain vague. Mr. Suthep has hinted that representatives of different occupation would be selected.
Furthermore, Mr. Suthep has announced his campaign to overthrow ?Thaksin Regime? will not be over even after Ms. Yingluck resigned or dissolved the Parliament, arguing that Thailand needs a radical restructuring to uproot the alleged evils committed by former Prime Minister Thaksin Shinawatra, the brother of Ms. Yingluck, who was ousted in a 2006 military coup but is still wielding considerable influence in Thai politics.
Anti-government protesters – banded under the name People′s Committee for Absolute Democracy With the King as Head of State (PCAD) – are known for their royalist rhetoric. Many protesters and their leaders have previously accused Mr. Thaksin of plotting against the Thai monarchy.
Allies of Ms. Yingluck are quick to criticise Mr. Suthep′s proposals.
Mr. Warathep Rattanakorn, Minister of the Prime Minister′s Office, said an appointed leader under Article 7 would be directly against the electoral system of the country, and therefore unconstitutional.
He also questioned the validity of the ?People′s Council? proposed by Mr. Suthep. "Mr. Suthep claimed he wanted a government that truly represents the people," Mr. Warathep said, "But I?d like to ask him whether it would include more than 10 million people who have voted for Pheu Thai-led Party."
Mr. Warathep warned that an unelected leader would only cause further cycles of chaos, since the majority of the people prefer a solution under constitutional procedure. "The Prime Minister came with her legitimacy. If she has lost it, she must lose it under constitutional practice, not because Mr. Suthep has demanded so".
Asked whether invocation of Article 7 would amount to breaching the boundary of His Majesty the King′s power under a Constitutional Monarchy, Mr. Warathep replied that he does not want to comment on the matter "especially in the auspicious celebratory period of His Majesty the King′s Birthday," which falls on 5 December.
Mr. Jarupong Ruangsuwan, Minister of Interior Affairs and chairman of Pheu Thai Party, likewise dismissed Mr. Suthep′s pursuit of Article 7 as unconstitutional.
"How could we proceed with it when the Prime Minister is still here and she has done nothing wrong?" Mr. Jarupong told reporters, "At most, the way out of the current political situation is to dissolve the House and call for a new election. It′s something the government can do," therefore there is no need for an extra-constitutional solution proposed by Mr. Suthep.
He continued, "I?d like to invite Mr. Suthep and the Democrat Party to talk with us. Talk, then listen to the opinion of the majority according to rule of the majority. They should stop clinging to their minority mandate and starting all these fights. The world is laughing at us".
However, Mr. Ekkanat Prompan, spokesman of the PCAD, said the call for a royally-appointed Prime Minister is perfectly constitutional.
When a reporter asked him whether the move would be against the democratic system, Mr. Ekkanat shot back, "How could it be?"
He also alleged that it was the government who acted in contradiction with a democratic system when it refused to accept the ruling of the Constitutional Court last month.
For comments, or corrections to this article please contact: [email protected]
You can also find Khaosod English on Twitter and Facebook
http://twitter.com/KhaosodEnglish
http://www.facebook.com/KhaosodEnglish