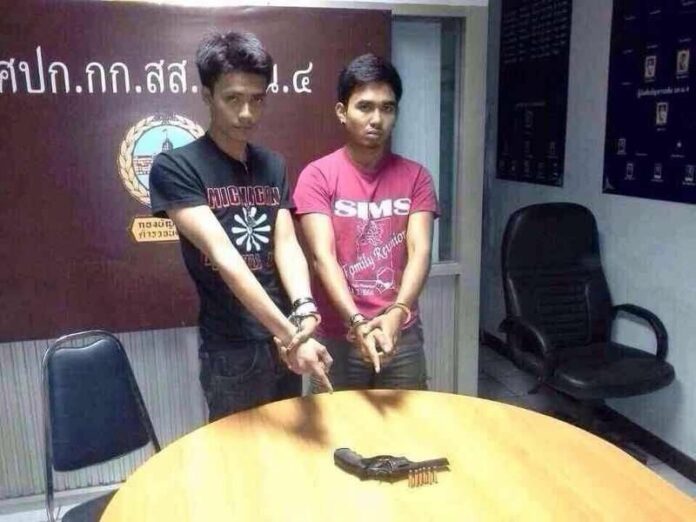 (23 December) The police have arrested two students suspected of killing a Redshirt protester during the clashes between rival political groups in Bangkok last month.
Three pro-government Redshirts and one anti-government protester were killed by gunfire in the violence which erupted around Rajamangala Stadium, where the Redshirts were holding a mass rally, in Ramkhamhaeng district of Bangkok on the night of 30 November.
Bangkok Metropolitan Police spokesman said yesterday that one of the Redshirts victims, Private Thanasit Viangkham, was killed by Mr. Teerapat Thongrit, a student of Ramkhamhaeng University, who fired a .38 handgun from his dormitory near the clash site. The gun was owned by his friend, identified as Mr. Noppadol Kaewmecheen, police said.
The police have arrested both individuals and confiscated the handgun along with 6 ammunition the officers reportedly found inside the suspects? dormitory room.
A senior police officer said the detectives have determined the ballistic path of the gunfire from the evidences gathered from the spot where the Private Thanasit was shot.
Mr. Teerapat, a freshman in the university′s Faculty of Political Science, has said he would only testify in court, the officer added.
Mr. Jatupon Prompan, a leader of the United Front of Democracy Against Dictatorship (UDD), said in a press conference that leaders of the anti-government movements must be held responsible for the actions of Mr. Teerapat and Mr. Noppadol.
"These two suspects might end up losing their bright future, now that they are criminals in murder cases," Mr. Jatupon said, "Therefore, those who urged the Ramkhamhaeng students to fight with Redshirts and those who whipped up the hatred must be responsible".
For comments, or corrections to this article please contact: [email protected]
You can also find Khaosod English on Twitter and Facebook
http://twitter.com/KhaosodEnglish
http://www.facebook.com/KhaosodEnglish