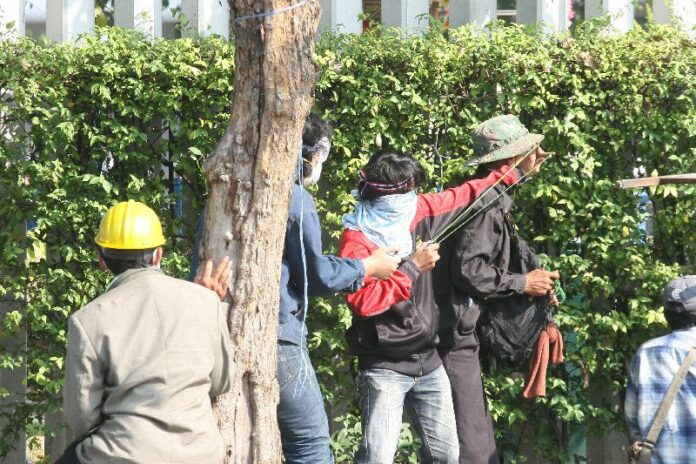 (27 December) Pheu Thai Party has invited the Thais to turn on their cars? front light at daytime to express their support for the upcoming general election.
"I want everybody to turn their vehicle's light on, either a car or a motorcycle, in day time, to protest against the action of Mr. Suthep and PCAD," said spokesperson of the ruling party, Mr. Prompong Nopparit, referring to Mr. Suthep Thaugsuban, leader of the People′s Committee for Absolute Democracy With the King As Head of State.
Protesters led by PCAD attempted to storm the Thai-Japanese Stadium in Bangkok′s Dindaeng district yesterday in the bid to disrupt the election registration process held inside the stadium. The situation quickly escalated, and by the day′s end over 90 people have been injured and one policeman shot dead by unidentified individuals.
The PCAD have rejected the new election called by Prime Minister Yingluck Shinawatra, demanding instead for the creation of an unelected ?People′s Council? to rule the nation as a transitional government.
However, Mr. Prompong said the PCAD′s campaign of "civil disobedience" to derail the election is "abusive" and "violating the nation′s law, without regard for the effect they are laying on other people or the country′s image".
After protesters allied with the PCAD briefly closed down the busy Vibhavadi-Rangsit Road during the rush hour yesterday, many commuters have also complained to Pheu Thai Party that they had faced great difficulty traveling on that route, Mr. Prompong said in a press conference.
"Mr. Suthep [Thaugsuban] would like to reform the politics to solve the country's problem, but he is taking captive of the country, harming people by closing down the road", said Mr. Prompong.
The country has been bitterly damaged by Mr. Suthep and his followers, Mr. Prompong added.
"I wish Mr. Suthep supporters could see what he has done. Their actions are becoming more savage, and disobeying any law. I would like to condemn their actions, for thinking that they are above others, above the law", added Pheu Thai Spokesperson.
"I called out to everybody to show your despise for their actions, such as via online media, against the lack of maturity of one leader who do not respect the rights of all Thai citizen", Mr. Prompong said, suggesting that one way to show the Thais? disagreement with the PCAD′s anti-election campaign could keep their vehicles? lights on during the day.
He said he would personally adopt this measure, too, and he asked those who agree with him to turn the lights on until the protesters disband.
"I hope Mr. Suthep would stop ruining the happiness of all Thai people, and stop ruining the country's image during New Year's Celebration", Mr. Prompong said.
For comments, or corrections to this article please contact: [email protected]
You can also find Khaosod English on Twitter and Facebook
http://twitter.com/KhaosodEnglish
http://www.facebook.com/KhaosodEnglish