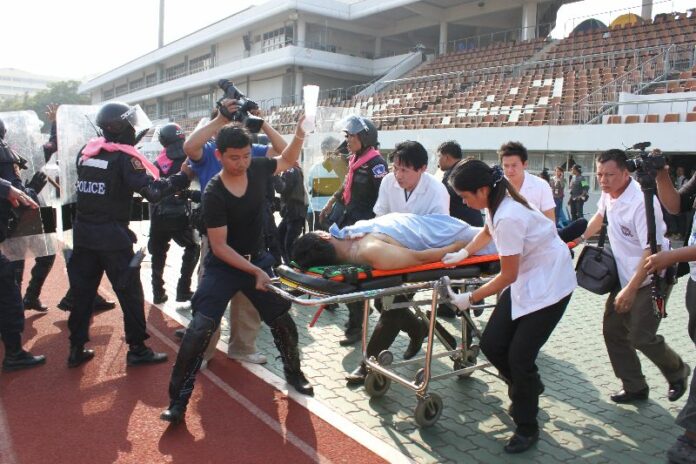 (27 December) One more victim of the violent clashes between anti-government protesters and police on Thursday has passed away at hospital, officials said.
Meanwhile, a taxi driver who had been beaten by the protesters is reportedly recovering from his severe injuries.
The deceased victim has been identified as a member of the protesters who were besieging the election registration venue at Thai-Japanese Stadium in Bangkok′s Dindaeng district.
The protesters, led by People′s Committee for Absolute Democracy With the King As Head of State (PCAD), demanded that the next general election be scrapped.
Officials said the victim was brought to King Mongkut Hospital yesterday afternoon with gunshot wound in the chest. He is identified as Mr. Wasu Suchantabutr, 30. A senior official at King Mongkut Hospital said Mr. Wasu′s organs such as liver, kidney, and artery have been damaged by a small bullet which penetrated his body.
Despite the medical staff′s effort to save his life, Mr. Wasu passed away at 03.45 this morning, the official said.
With the death of Mr. Wasu, death toll of yesterday violence now stood at 2; the other deceased victim was a police officer who had been shot in his chest in the heat of the clashes.
Dr. Suphan Srithamma, Director of the Medical Services Department, said a total of 153 people have been admitted to hospital for injuries at the clashes, 36 of them described as severely injured.
He also denied the reports that another anti-government protester had died; Dr. Suphan said the protester, who had been reportedly shot in the head, is still alive and under intensive care at Rajvidhi Hospital.
The director added that today rescue workers and medical staff would be deployed in three areas which have been deemed as potentially susceptible to further clashes: the Thai-Japanese Stadium, Government House, and Bangkok Metropolitan Police.
Dr. Narong Abhikulvanich, Deputy Director of the Medical Services Department, said a female rescue worker who had been shot in the chest during the clashes near the Stadium is now in stable condition. She is suffering from bleeding in the lung, Dr. Narong said.
A witness, Mr. Sutthirak Khumsom, who reportedly saw the incident told Khaosod that he was working with 7 other rescue workers near Gate 3 of the Stadium at around 17.00 yesterday when a hail of gunfire rained down on their position. His co-worker was hit by one of the bullets as she was helping a wounded victim, Mr. Sutthirak said.
"The fact that even rescue workers get shot has greatly affected our spirit," Mr. Sutthirak said, "But if a new round of violence happens, every rescue worker is willing to assist the victims".
Dr. Udom Chaowarin, Director of Rajavidhi Hospital, said the protester who had been shot in head can open his eyes but cannot make any further communication, which indicated that his brain might be damaged, but Dr. Udom said it is too early to pinpoint the extent of the damage.
Furthermore, Dr. Udom said the taxi driver who had been beaten unconscious by the anti-government protesters on Vibhavadi Road yesterday is recovering from his injuries.
Reports said the driver, identified by Dr. Udom as Mr. Petch Chusri-kwan, was
beaten
and left bleedingon the ground after he criticised the protesters for blocking the traffic on the busy Vibhavadi Road.
Dr. Udom said Mr. Petch has gone through an X-Ray test, which indicates no serious problem. Shards of nails are being removed from his head and his condition is gradually improving, according to Dr. Udom.
For comments, or corrections to this article please contact: [email protected]
You can also find Khaosod English on Twitter and Facebook
http://twitter.com/KhaosodEnglish
http://www.facebook.com/KhaosodEnglish