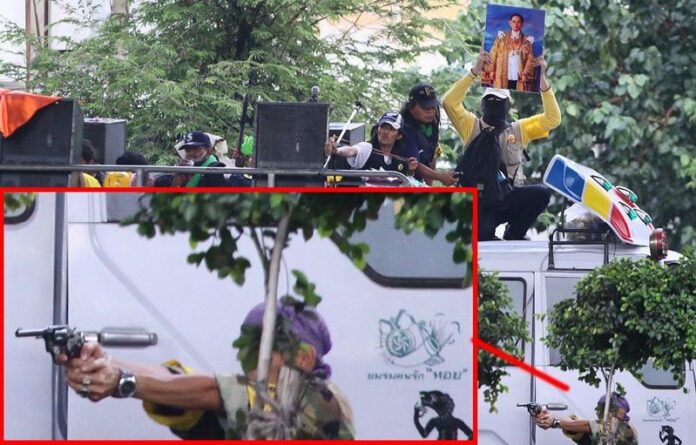 (27 December) The editorial team of Thai Rath newspapers has issued an apology over a misleading photo of the clashes between anti-government protesters and the police in Bangkok.
Published on the frontpage of 27 December 2013 issue, the photo showed an unidentified man firing his handgun. The caption that accompanied the photo said the gunman was firing the weapon in the clashes which erupted near Thai-Japanese Stadium in Dindaeng district yesterday.
One policeman and one anti-government protester died of gunshot wounds, while many more have also been injured with gunshots. The police said mysterious individuals fired these rounds from their position on a high building near the clash site.
The photo, which was purported to show one such individual, had been circulated widely in the social network, but it soon emerged that the photo was in fact about a separate violent incident on 25 November 2008, when a group of anti-government Yellowshirts was clashing with Redshirts supporters near Soi Vibhavadi 3.
In the light of this revelation, Thai Rath has
published
on its website a statement that the man seen in the newspaper frontpage photo was not related to the clashes at Thai-Japanese Stadium yesterday.
It also offered an apology over the mistake.
However, the matter also raised another case of political bickering, with Mr. Suthep Thaugsuban, leader of the People′s Committee for Absolute Democracy With the King As Head of State (PCAD), accusing the government of publishing the photo as a false proof that PCAD supporters were responsible for the gunfire which killed and injured a number of people yesterday.
Mr. Suthep specifically named Deputy Prime Minister Surapong Tovichakchaikul as the source of the rumour. According to Mr. Suthep, Mr. Surapong showed the photo during one of his live press conference on national television and identified it as a gunman hired by PCAD.
Earlier today, Mr. Surapong said in a press conference that he never used that photo to allege any wrongdoing against PCAD.
"[Mr. Suthep] can watch every video clip of my press conference on every state-owned TV channel," Mr. Surapong said, "I never said such thing".
For comments, or corrections to this article please contact: [email protected]
You can also find Khaosod English on Twitter and Facebook
http://twitter.com/KhaosodEnglish
http://www.facebook.com/KhaosodEnglish