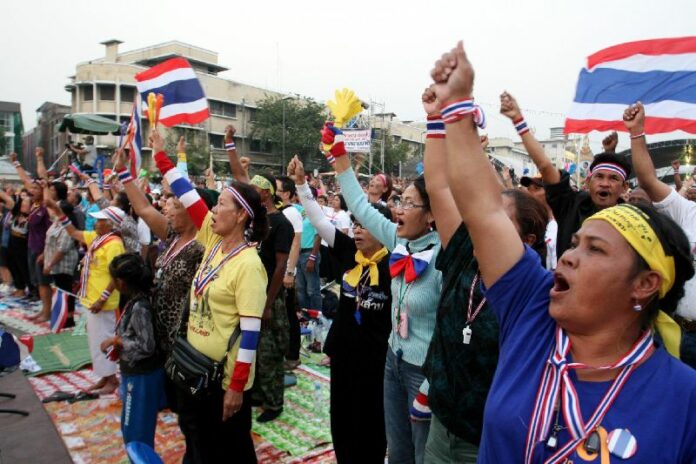 (5 January) Anti-government protesters in Krabi province has threatened to shut down the provincial airport if Prime Minister Yingluck Shinawatra refuses to resign.
Mr. Detchart Damdee, leader of the local chapter of the People′s Committee for Absolute Democracy With the King As Head of State (PCAD), said in a press conference at Krabi′s Mueang district today that his supporters are ready to campaign in the province to coincide with PCAD′s "shutdown" of Bangkok on 13 January.
PCAD has vowed to occupy 20 major intersections in the capital city on that day to cause massive gridlock, out of hope that the move will pressure Ms. Yingluck into resigning from her caretaker position and scrapping the general election on 2 February 2014.
Mr. Detchart said some protesters in Krabi would travel to Bangkok to help "shutdown" the city on 13 January, but others would stay in the province to "escalate" the measure against Ms. Yingluck′s government.
Such measures include shutting down of roads, highways, or even airport, according to Mr. Detchart, adding that the shutdown would only be temporary in order to ease the impact on commuters and tourists.
Krabi′s beaches and seas are popular destination for many foreign tourists.
"We will discuss the matter the central leadership. If Mr. Suthep orders Krabi Airport to be seized, our will immediately do so," said Mr. Dechart, referring to PCAD leader, Mr. Suthep Thaugsuban.
He justified the possible seizure of these public transports by claiming that the election cannot go ahead as called by Ms. Yingluck because Thailand needs a drastic "reform" before any election can take place; PCAD leaders have demanded that an unelected "People′s Council" be established to implement "reforms" deemed necessary by the group.
"PCAD in Krabi insists that the caretaker Prime Minister and the Cabinet must resign to pave way for the political vacuum," and allow the "People′s Council" to take power instead, Mr. Detchart said.
In 2008 groups affiliated to the current anti-government protest leadership seized Bangkok′s two international airports for days as a part of their campaign against the government at the time.
For comments, or corrections to this article please contact: [email protected]
You can also find Khaosod English on Twitter and Facebook
http://twitter.com/KhaosodEnglish
http://www.facebook.com/KhaosodEnglish