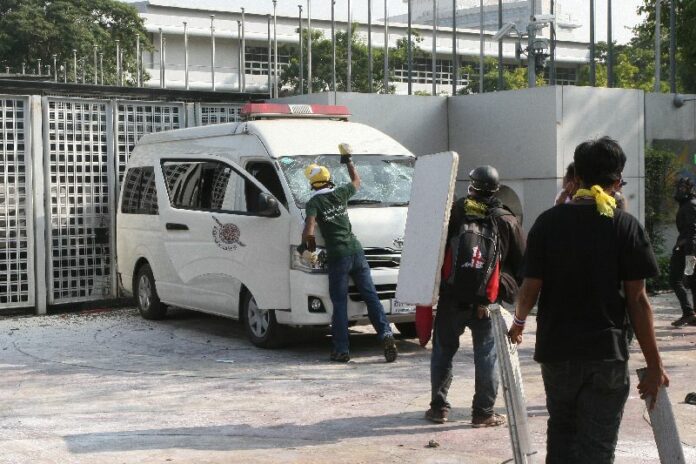 (9 January) The police have pleaded for information concerning 27 firearms allegedly looted by anti-government protesters during a deadly clash last month.
According to the Center for Administration of Peace and Order (CAPO), these weapons were looted from police vehicles parked around Thai-Japan Stadium on 26 December, where the protesters led by People′s Committee for Absolute Democracy With the King As Head of State (PCAD) attempted to storm the election registration venue held inside the Stadium.
The confrontation escalated into violent clashes in which one police officer and one anti-government protester were shot dead. The police claimed that their vehicles and equipment storage had been ransacked by the protesters.
Among the 27 firearms reportedly looted by the protesters, 21 of them are state-issued weapons while 6 others are personal belongings of the officers, CAPO′s Pol.Lt.Gen. Sophon Pisutthiwong said in a press conference.
Pol.Lt.Gen. Sophon added that the stolen firearms include 6 shotguns which were used by riot police to fire rubber bullets, but they could also be used to fire fatal shotgun rounds. 12 tear gas launchers and three .38 handguns are also missing, Pol.Lt. Gen. Sophon.
Officers? personal sidearms allegedly stolen by protesters are two 9 mm. handgun, one .380 handgun, two .45 handgun, and one air pistol, said Pol.Lt.Gen. Sophon, adding that one of the handguns had been recovered following an arrest of an anti-government protester in Bangkok′s Bang Plad district on 2 January.
Furthermore, the officer said, investigation of bullet holes and ammunition rounds found in the 26 December clashes reveals that the gunfire which attacked the police came from the direction outside the Stadium′s perimeter and not the police position.
16 firearms were involved in these shootings, Pol.Lt.Gen. Sophon asserted, warning that the mysterious assailants? arsenal would have been supplemented by an addition of the looted 27 firearms.
"Please think about the possible violence," said Pol.Lt.Gen. Sophon.
He added, "Let me remind the people that the light we want to see in Thai society must be neither the flame at the funeral pyre for the protesters nor fire at the cremation of the laws enforcement agents. Please stop or lessen the violence that could happen".
Due to the fears that these looted weapons could be smuggled into protest sites by third-hand individuals, the police would have to set up strict checkpoints to search for firearms or any explosive devices around the rallies, according to Pol.Lt.Gen. Sophon.
"It is necessary that we search some vehicles. We apologise for the inconvenience," said Pol.Lt.Gen. Sophon, adding that the public are encouraged to report to the police immediately if they find the reported stolen firearms.
For comments, or corrections to this article please contact: [email protected]
You can also find Khaosod English on Twitter and Facebook
http://twitter.com/KhaosodEnglish
http://www.facebook.com/KhaosodEnglish