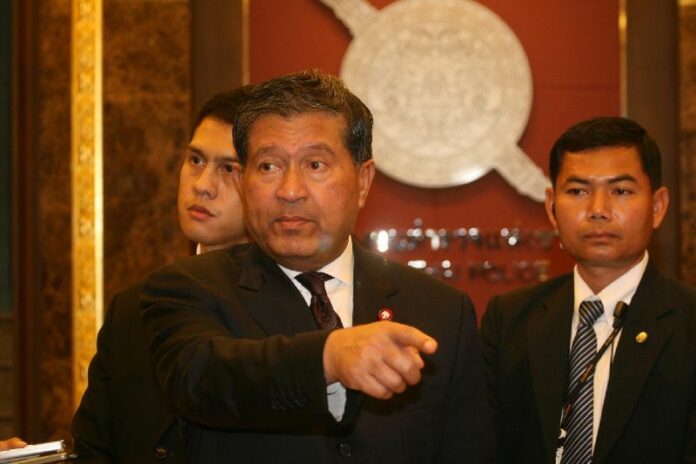 (9 January) Labour Minister Chalerm Yoobamrung claimed he is now back in charge of monitoring the anti-government protests.
Mr. Chalerm lost his prominent position as a Deputy Prime Minister last year following a Cabinet shift ordered by Prime Minister Yingluck Shinawatra, and he had been delegated to the much less influential post at the Ministry of Labour.
Nevertheless, Mr. Chalerm has publicly expressed his wish in the past to be back at the frontline as the government is pitted in the struggle against anti-government protesters led by People′s Committee for Absolute Democracy With the King As Head of State (PCAD).
It appears his prayer has been answered.
"The Prime Minister has assigned me to assist the police, it is true," Mr. Chalerm told reporters today, adding that he has been specifically instructed to report to the government′s agency which monitors the protests and combats criminal acts committed during the protests.
Mr. Chalerm stressed that his work would not interfere with the police operations or other existing governmental war rooms.
"I didn?t offer my service because I?m drunk with power," Mr. Chalerm said, "But because I?m fed up with those who mobilise local district officials and the people in south to join the protests".
He added, "I am glad the Prime Minister called me to serve, even though it is a bit late".
One of his top priorities would be the operation to arrest PCAD leader Suthep Thaugsuban who is currently wanted for his insurrection charges, according to Mr. Chalerm, who insisted that it is not within his power to make an arrest.
However, he said, he would distribute 200 arrest warrants of Mr. Suthep to the police units, in order to help them arrest the PCAD leader as soon as they encounter him. If Mr. Suthep attempts to resist, Mr. Chalerm said, the police would be allowed to "exercise their judgment" in proceeding the arrest.
"Mr. Suthep is demanding something that is impossible and not supported by any laws," Mr. Chalerm told said. He warned that the nation would not function if Mr. Suthep is allowed to walk free, but told reporters that there is no reason to place bounty on Mr. Suthep.
"Please come surrender yourself to the police. I believe he would be granted bail in no time," he added.
The Labour Minister also urged an unnamed high-ranking police officer to stop giving support to Mr. Suthep, and warned that state officials who aid the PCAD are at risk of violating the laws.
Furthermore, Mr. Chalerm claimed police officers in many provinces have told him that they had lost much dignity throughout the protests.
"These people keep contacting me, asking me, brother, when will you be back in charge?" Mr. Chalerm said, "So I tell them now, I am fucking back!"
(
กูกลับมาแล้ว
)
For comments, or corrections to this article please contact: [email protected]
You can also find Khaosod English on Twitter and Facebook
http://twitter.com/KhaosodEnglish
http://www.facebook.com/KhaosodEnglish