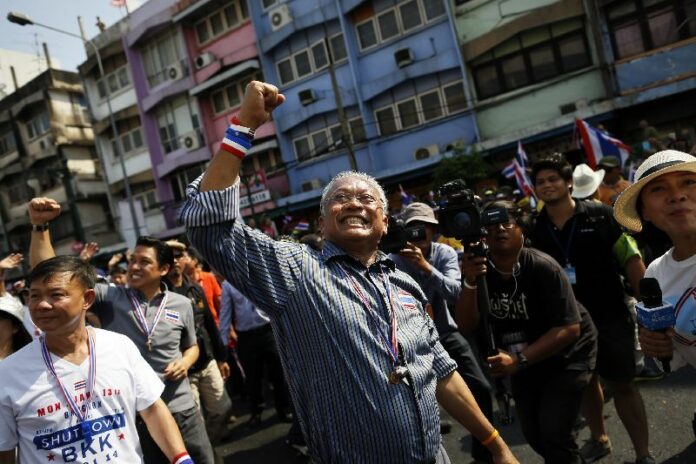 (10 January) PCAD leader Suthep Thaugsuban has insisted that he will not order the seizure of Bangkok's two airports and other main public transport hubs during the "shutdown" of Bangkok.
The People′s Committee for Absolute Democracy With the King As Head of State (PCAD) has threatened to occupy 7 major intersections in Bangkok on 13 January to "shutdown" the capital city until Prime Minister Yingluck Shinawatra resigns from her caretaker position and scrap the general election on 2 February.
There are fears that the PCAD protesters will storm Bangkok′s Don Mueng Airport and Suvarnabhumi Airport during the "shutdown", as anti-government protesters did in 2008, causing massive mayhem and economic damages.
But Mr. Suthep said on a rally stage at Ratchadamnoen Avenue yesterday that the PCAD only aims to occupy Bangkok′s 7 intersections to pressure the government. There will be no occupation of airports, train stations, docks, or any other transport hub in Bangkok, Mr. Suthep promised.
The PCAD leader also vowed to leave financial institutions alone, including the Stock Exchange of Thailand, the Bank of Thailand, and any other commercial bank in Bangkok.
However, it is reported that the residence of Mr. Jarupong Rueangsuwan, Acting Minister of Interior, will be one of the destination the protesters planned to "visit" en route.
Mr. Suthep also expressed his firm belief that there will be no less than "400,000" Bangkokians who live on Thonburi side of the capital city to join the marches to shutdown Bangkok next Monday.
He urged his supporters to respect the Constitution and carefully follow his instructions during the shutdown operation to promote the cause of the "Great Mass of the People".
"We will not be tempted into anger, even though the other is recruiting people to wage war on us," Mr. Suthep told the crowd, "If we can do this, I guarantee you, we will win fair and clean. And the world will record this".
He added, "If [the security forces] try to hurt us, just sit down and pray".
In his speech the PCAD leader later sarcastically thanked Mr. Tharit Pengdith, Chief of the Division of Special Investigation (DSI), for freezing the bank account of PCAD′s "Ratchadamnoen Kitchen". After the anti-government protesters heard about the incident, Mr. Suthep claimed, many of them showed their sympathy by donating large sum of money for the PCAD.
He then invited his supporters from Pak-Panang district, in Nakhon Sri Thammarat province, and from Phra Pradaeng district, Samutprakarn province to join the "final battle" on Monday.
For comments, or corrections to this article please contact: [email protected]
You can also find Khaosod English on Twitter and Facebook
http://twitter.com/KhaosodEnglish
http://www.facebook.com/KhaosodEnglish