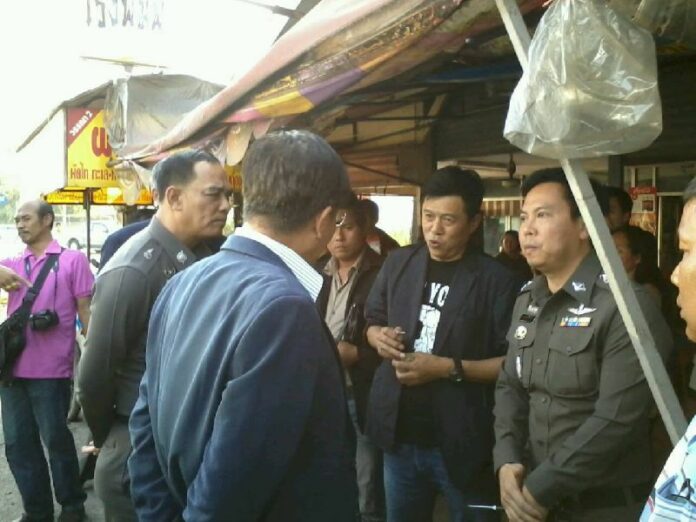 (10 January) A clash between PCAD and Redshirts supporters in Pathum Thani province today has resulted in the injuries of three Redshirts and one high-school student who was caught in the crossfire.
The clash happened during the demonstration of the local chapter of the People′s Committee for Absolute Democracy With the King As Head of State (PCAD) who marched in Mueang district with more than 100 vehicles in the convoy, inviting Pathum Thani residents to join the PCAD′s "shutdown" of Bangkok on 13 January.
The PCAD convoy was led by Buddhist monk Luang Phu Buddha Isara and Mr. Attaphol Arunuros.
However, supporters of the United Front of Democracy Against Dictatorship (UDD) were rallying nearby in Lamlukka district. When the PCAD march entered the district, a group of UDD supporters led by Mr. Wutthipong ?Ko-Tee? Kochathammakhun tried to chase away PCAD demonstrators.
Police officers intervened and attempted to separate the two sides from each other, but Mr. Wutthipong′s car was able to elude the police blockade and approached the PCAD supporters. Chaos ensued, with gunfire erupting in the area.
Mr. Wutthipong′s car was later attacked by small ping-pong bombs and gunshots. One Redshirt was reportedly shot in his hip, while two other Redshirts were injured by the explosives.
One high school boy was also injured as he was passing by the area when the clashes took place. The victims were later transported to Bhumibol Hospital and B-Care Hospital.
Meanwhile, a minivan belong to the PCAD convoy was likewise damaged by a gunshot, but a witness claimed that a PCAD supporter on a motorcycle fired his weapon at the van and the Redshirts.
Police claimed they had searched a vehicle belonging to a PCAD protester and found a number of weapons, including a shotgun and a slingshot.
For comments, or corrections to this article please contact: [email protected]
You can also find Khaosod English on Twitter and Facebook
http://twitter.com/KhaosodEnglish
http://www.facebook.com/KhaosodEnglish