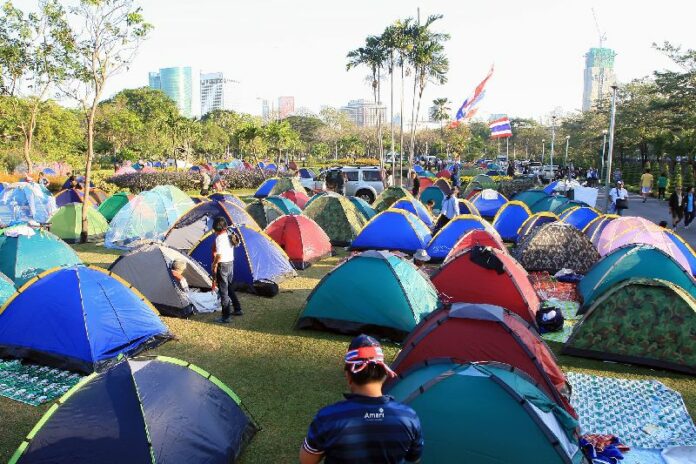 (13 January) The anti-government protesters′ attempt to "shutdown" Bangkok has extended beyond their original plans.
The People′s Committee for Absolute Democracy With the King As Head of State (PCAD) has previously vowed to "shutdown" the capital city by occupying 7 major intersections, landmarks, and roads, in the bid to pressure the government Prime Minister Yingluck Shinawatra into resignation.
The PCAD has also demanded that the general election on 2 February be scrapped in favour of the establishment of an unelected ′People′s Council′ to implement series of "reforms" deemed necessary by the PCAD leadership.
The 7 sites the PCAD has previously marked for occupation are the Government Complex on Chaeng Wattana Road; Ladprao Intersection; Victory Monument; Saladaeng Intersection and the nearby Lumpini Park; Asoke Intersection, Ratchaprasong Intersection; and Pathumwan Intersection, where PCAD has erected their ′main′ rally stage.
Apart from those 7 sites, however, additional roads had been closed down by PCAD protesters and their affiliated groups.
For instance, the People′s Force of Democracy to Overthrow Thaksinism (PEFOT) have closed down both inbound and outbound lanes of Rama VIII Bridge, using big lorries and other barricades to block the road. The protesters there say they will "spend the night" on the bridge.
Protesters on Ratchaprasong Intersection had also rallied in front of the nearby Royal Thai Police Office.
Traffic on Rama IV Road has been severely affected after Wireless Intersection, Saladaeng Intersection, Henri Dunant Intersection, Sam Yan Intersection were all closed by PCAD protesters, including Thai-Belgium Bridge and Thai-Japan Bridge.
On Chaeng Wattana Road, the protesters have set up additional "temporary" stages in front of Constitutional Court Office and TOT Public Company Limited. It is reported that PCAD protesters have blocked Chaeng Wattana Road with sandbags, car tyres, and iron fences.
Ploenchit Intersection and some stretches along New Petchaburi Road have been likewise closed down by the protesters.
It is difficult to keep track of locations occupied by protesters, as many of them have fanned out from their major rally sites to neighbouring areas.
Meanwhile, many parts of downtown Bangkok are unnaturally quiet, devoid of the usual busy traffic, since many office workers have chosen to work from home to avoid the "shutdown" while a number of schools have also been closed.
Although public bus routes have been severely affected by the shutdown, it is reported that public transports are still available in many area, and many commuters have relied on BTS and MRT systems.
For comments, or corrections to this article please contact: [email protected]
You can also find Khaosod English on Twitter and Facebook
http://twitter.com/KhaosodEnglish
http://www.facebook.com/KhaosodEnglish