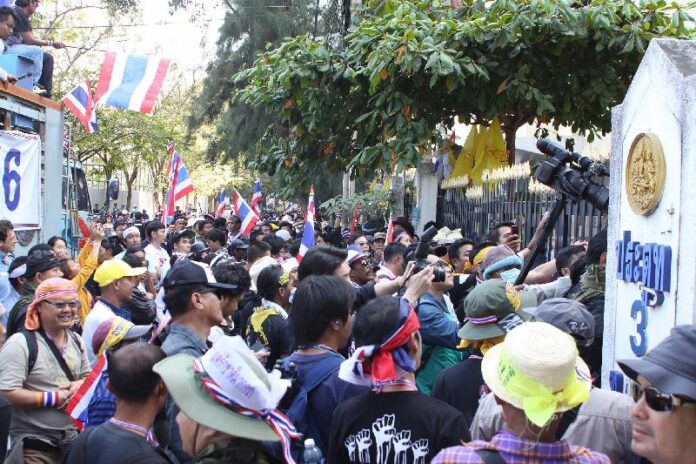 (13 January) Anti-government protesters have marched to the Ministry of Labour this morning to pressure governmental officials into joining the protests.
The protesters split from one of the main rally sites organised by the People′s Committee for Absolute Democracy With the King As Head of State (PCAD) at Ladprao Intersection.
At the Ministry, the protesters chained every gate around the building to prevent officials from entering, while many shouted that the officials inside should switch side and join the crusade to unseat Prime Minister Yingluck Shinawatra.
The protesters also vented out their anger at Labour Minister Chalerm Yoobamrung, with some speakers saying via loudspeakers that Mr. Chalerm should stop serving ′Thaksin′s Regime′, referring to former Prime Minister Thaksin Shinawatra, whom the protests accused as the true puppet master behind the current administration.
Mr. Chalerm has previously angered anti-government protesters with his provocative remarks. He also threatened to have PCAD leader Suthep Thaugsuban under arrest.
As of Monday afternoon, there is no report of violence, and protest leaders have instructed the protesters not to break into the Ministry. The protesters still gather in front of the building, however, some of them giving speeches to the crowd, condemning Mr. Chalerm.
Approximately 200 civil servants have been ordered to leave their office out of security concern, but some others are reportedly still working inside the building. There are reports that some of the governmental officials who left later joined the protests.
For comments, or corrections to this article please contact: [email protected]
You can also find Khaosod English on Twitter and Facebook
http://twitter.com/KhaosodEnglish
http://www.facebook.com/KhaosodEnglish