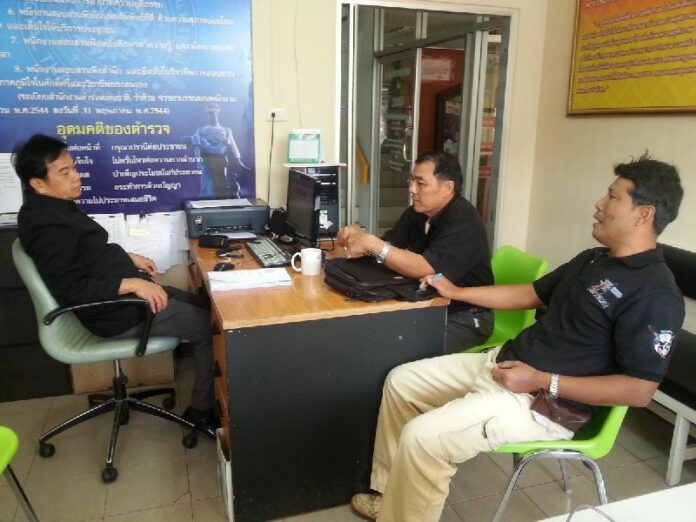 (18 January) A Redshirt activist has filed a legal complaint against the Election Commission (EC) for its reluctance to organise the 2 February election.
Mr. Somchai Saengthong, the head of a "Redshirt village" in Chiang Rai province, filed the complaint at a police station in Mueang District this morning.
The EC has previously urged the government of Prime Minister Yingluck Shinawatra to postpone the 2 February poll, citing concerns that the election would only escalate the ongoing political crisis which pits her government against anti-government protesters led by People′s Committee for Absolute Democracy With the King As Head of State (PCAD).
PCAD demands that Ms. Yingluck and her entire Cabinet resign, and the 2 February election be scrapped, in order to pave way for the establishment of an unelected ′People′s Council′. The Council, whose members would be selected by PCAD leadership, would then implement series of reforms before any election can be held, according to PCAD leaders.
PCAD supporters have blocked venues for election registration in many provinces to derail the 2 Feb election, and they have succeeded in canceling the registration in a number of southern provinces – the stronghold of the anti-government protests.
Pro-government factions have also accused the Election Commission of conspiring with PCAD′s anti-election campaign.
At the police station, Mr. Somchai told police that the laws do not allow the election to be postponed. Much preparation for the 2 Feb election has also been completed or underway, such as advance voting and overseas election, Mr. Somchai noted.
Therefore, the EC is violating the laws by refusing to conduct its duty, Mr. Somchai said.
"The EC has a duty to organise the election," Mr. Somchai said, "If the election is postponed, many people would have lost their rights. This is violating of the people′s rights."
He urged other citizens to follow his example and undertake legal actions against the EC.
Yesterday Pheu Thai Party spokesman Prompong Nopparit likewise threatened to hold the EC accountable for its insistence that the 2 Feb election must be delayed.
For a start, Pheu Thai Party will collect 20,000 signatures to unseat Election Commissioner Somchai Srisuthiyakorn, who has been a prominent advocate of election postponement, Mr. Prompong announced in a press conference.
Mr. Prompong also criticised Mr. Somchai (the EC official) for making indecent remarks concerning Ms. Yingluck; Mr. Somchai has previously suggested that she and EC members should arrange a meeting at Four Seasons Hotel, a reference to a now-debunked rumour that Ms. Yingluck has engaged in an extra-marital affair at the hotel.
As Ms. Prompong was speaking to the press, a Pheu Thai election candidate handed a 100 baht banknote to a reporter, jokingly stating that the reporter should take the money to buy a mouthwash product and mail it to Mr. Somchai so he could cure his foul-mouthed attitude.
However, Mr. Prompong was not amused, and he promptly instructed the candidate not to hand money to the reporter.
For comments, or corrections to this article please contact: [email protected]
You can also find Khaosod English on Twitter and Facebook
http://twitter.com/KhaosodEnglish
http://www.facebook.com/KhaosodEnglish