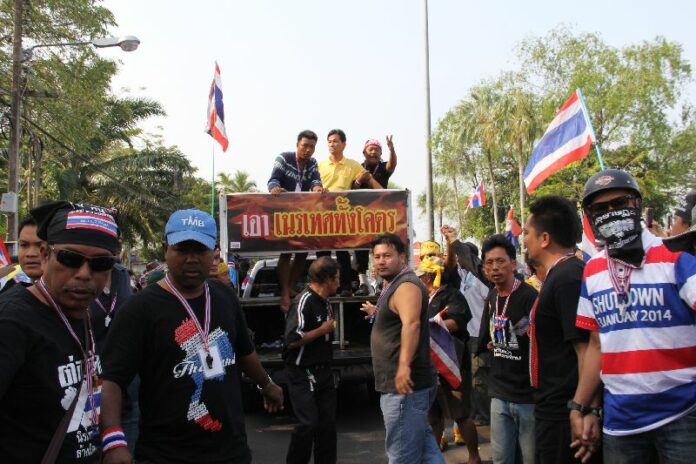 (20 January) A state official has been briefly detained and chastised by anti-government protesters in Surat Thani province because he refused to join their protests.
Local supporters of People′s Committee for Absolute Democracy With the King As Head of State (PCAD) marched to Surat Thani City Hall this morning in the bid to close down the state agencies, as ordered by PCAD leader Suthep Thaugsuban.
Mr. Suthep has previously called for provincial PCAD groups to disrupt functions of the authorities, in order to force Prime Minister Yingluck Shinawatra to resign and scrap the 2 February election.
Rallying in front of the City Hall, the protesters demanded that all civil servants abandon their works and join their campaign against Ms. Yingluck′s government instead.
Chaos ensued when a group of PCAD supporters captured a yellow-shirted civil servant named Mr. Sarayuth Saneewong na Ayutthaya, an official of the the provincial revenue department, and brought him onto the speaker truck manned by the protest leaders.
The protest leaders claimed that Mr. Sarayuth attempted to go to work in spite of PCAD′s commands, and has insulted the protesters by spitting onto a loudspeaker owned by PCAD.
The protesters then marched to the official residence of the Governor of Surat Thani in order to hand Mr. Sarayuth back to the officials. However, the protesters arrived to find that all doors and windows of the building firmly shut, causing the protest leaders threaten that they will storm inside the building unless the Governor came out to meet them.
Concerned by the threats, Deputy Governor Uaychai Innak emerged and told the protesters that the state agencies in the province have been ordered to close down per requests from the protesters.
As Mr. Sarayuth was handed to Mr. Uaychai, a large group of protesters mobbed the two and blew their whistles to express their anger, but PCAD guards fended them off. Mr. Sarayuth was visibly distraught by the incident, and he was seen gripping Mr. Uaychai′s arm until the protesters were forced back.
Mr. Sarayuth clarified that he was returning to work after watching a football match. He also claimed that he spat because he was feeling thirsty and did not intend to cause any offence.
The protesters eventually left the Governor′s residence and marched to other state agencies.
For comments, or corrections to this article please contact: [email protected]
You can also find Khaosod English on Twitter and Facebook
http://twitter.com/KhaosodEnglish
http://www.facebook.com/KhaosodEnglish