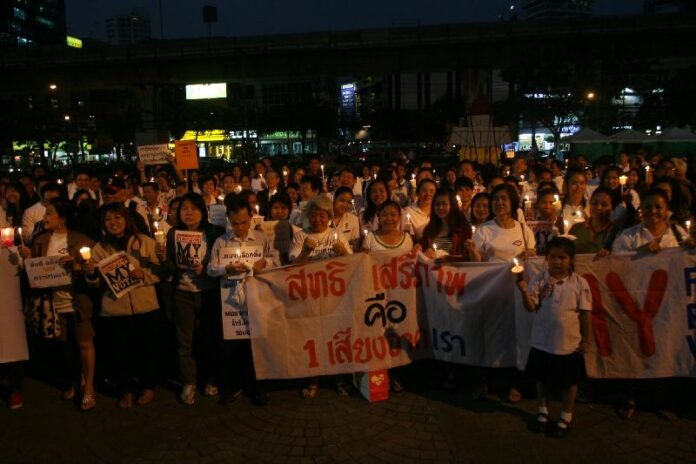 (24 January) A survey has claimed that a vast majority of Thai population plans to cast their votes in 2 February snap election.
The survey, named Bangkok Poll as it was conducted by research centre of Bangkok University, interviews 1,018 respondents over the age of 18 from "every region" of the nation.
To the question "If the election is still held on 2 February election, will you exercise your voting rights?", the 79.6% of those surveyed answered yes, while 9.9% answered no, and the other 10.5% said they were not sure.
The result came at a time when anti-government protesters led by the People′s Committee for Absolute Democracy With the King As Head of State (PCAD) intensified their campaigns to oust Prime Minister Yingluck Shinawatra and scrap the 2 February election.
The PCAD demands that an unelected "People′s Council" be established and implement series of reforms before any election can take place.
However, according to the survey conducted by Bangkok Poll, only 28.1% said they want to see "reform before election", while a majority of 51.5% believed the election should go ahead as planned.
But the survey also pointed to the apathy displayed by many political parties toward the 2 February election, as 49.3% of the respondents acknowledged that they had only seen vote-canvassing banners on streets but not candidates physically campaigning for votes.
Another 16.1% said they had not seen any vote-canvassing activity at all, and only 4.9% said they had seen enthusiastic vote-canvassing campaign by candidates.
Nevertheless, 47% of respondents said their determination to participate in the 2 February election is not affected by the ongoing political crisis, while the other 52.6% responded that the crisis have influenced their decisions.
In the latter group, 34.3% said they would wait and see if there would be violence before they decide to cast their ballots, and 18.3% said the crisis has dissuaded them from going to the election altogether.
Asked whether the military should stage a coup to resolve the increasingly violent political confrontation, a majority of 56% opposed the coup, but 21.6% said they would welcome it, while 22.4% said they were undecided about the matter.
For comments, or corrections to this article please contact: [email protected]
You can also find Khaosod English on Twitter and Facebook
http://twitter.com/KhaosodEnglish
http://www.facebook.com/KhaosodEnglish