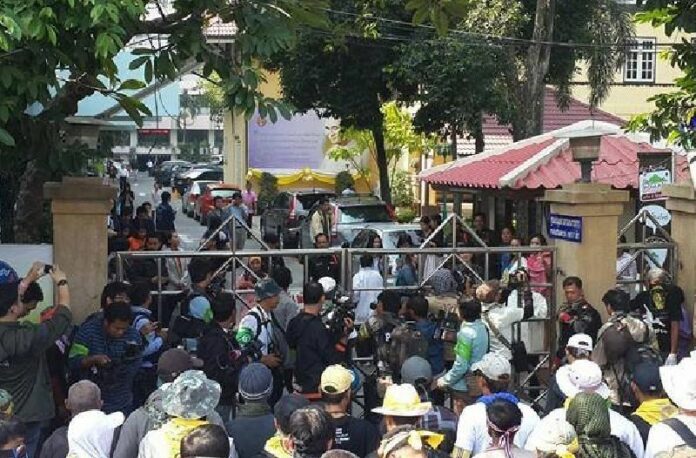 (24 January) Anti-government protesters have forced staff at a number of culture-related state agencies to leave work.
Supporters of Student and People Network For the Reform of Thailand (SRT) have embarked on a daily campaign to disrupt or close down governmental agencies across Bangkok in the bid to oust the government of Prime Minister Yingluck Shinawatra.
Today′s targets include the Department of Fine Arts, the Office of Archaeology and its operational facilities, such as the Office of National Museum, the Office of Architecture, and the Office of Literature and History.
Rallying in front of these offices, the protesters demand that all civil servants abandon their works as a "civil disobedience" against "Thaksin Regime".
Mr. Anand Chuchote, deputy director of the Department of Fine Arts, later negotiated with SRT core leaders and instructed his staff to immediately leave the offices.
Many officials and civil servants could be seen hurriedly packing their belongings and leaving the agencies shortly afterwards. SRT guards later entered the buildings to make sure that no official stays behind inside the department offices.
SRT protesters also laid siege to a number of other departments, such as Cooperative Promotion Department, Cooperative Auditing Department, and the Ministry of Culture.
Due to the demonstration, heavy traffic is reported in western Bangkok.
For comments, or corrections to this article please contact: [email protected]
You can also find Khaosod English on Twitter and Facebook
http://twitter.com/KhaosodEnglish
http://www.facebook.com/KhaosodEnglish