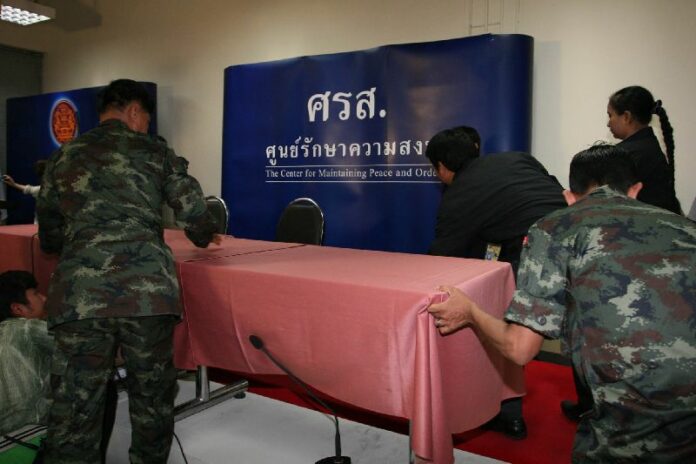 (24 January) Officials have abruptly informed reporters that headquarters of the Centre for Maintaining Peace and Order (CMPO) had been changed.
The government has installed the CMPO to exercise emergency powers following the enactment of the State of Emergency over Bangkok.
Although CMPO was previously based at the Office of Permanent Secretary of the Ministry of Defence, today Gen.Lt. Panuphon Bannakitsophon told reporters this morning that the headquarters of CMPO are no longer at the Office.
The Office of Permanent Secretary will now serve only as temporary headquarters for the Cabinet, Gen.Lt. Panuphon said.
Gen.Lt. Panuphon also reminded the reporters not to place cameras or take photographs in unauthorised areas, and to display their issued press cards at all time, as the Office of Permanent Secretary is a state agency dealing with many crucial national security matters.
"I am not censoring the press. I am merely asking you to respect the code of conduct of the venue," Gen.Lt. Panuphon assured the reporters.
Later, at around 11.15, soldiers and governmental officials proceeded to remove the logo of CMPO from the room where CMPO had previously staged press conferences. The logo was later replaced by the emblem of the Government House.
Officials said the CMPO would be housed in a police bureau, possibly the headquarters of the Narcotics Suppression Bureau.
The move came at a time when the relationship between the military and the government is rumoured to be increasingly strained. One anti-government news agency has heralded the "eviction" of CMPO from the military office as a sign that the armed forces are distancing themselves from the beleaguered government.
Later in the afternoon, Prime Minister Yingluck Shinawatra briefly met with reporters as she made way to her vehicle in the Office of Permanent Secretary′s parking lot. Ms. Yingluck joked with the reporters that she merely wanted them to see her, as she had nothing to tell the press for the moment.
True to her words, Ms. Yingluck refused to answers questions about the possible postponement of 2 February election, or the ongoing campaign by anti-government to scrap the election.
After a brief chatting with reporters, Ms. Yingluck left the Office for unknown destination.
For comments, or corrections to this article please contact: [email protected]
You can also find Khaosod English on Twitter and Facebook
http://twitter.com/KhaosodEnglish
http://www.facebook.com/KhaosodEnglish