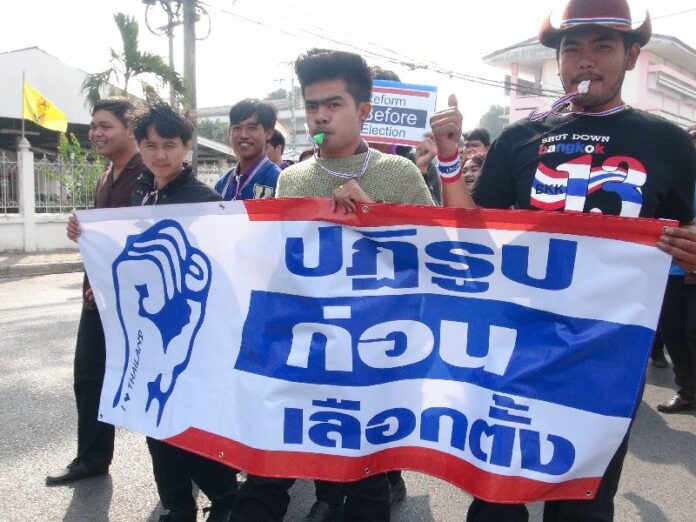 (24 January) The Constitutional Court has paved a legal path for the postponement of 2 February election as demanded by anti-government protesters.
The Court has ruled that, despite the constitutional requirement which dictated that an election must be held in 60 days after the House is dissolved, a postponement of 2 February election would not be unconstitutional.
The Court also clarified that the government and the Election Commission (EC) have the joint authority to postpone the election, namely by issuing a Royal Decree.
It advises the government and the EC to discuss the matter.
The verdict followed a request filed by the EC to the Constitutional Court, asking the judges to determine whether the poll can be postponed.
Key Election Commissioners support the postponement, citing a potential widespread violence which might occur on 2 February should the election go ahead as planned, as anti-government protesters led by People′s Committee for Absolute Democracy With the King As Head of State (PCAD) have vowed to disrupt the election in every possible way.
PCAD demands that an unelected "People′s Council", whose members would be selected by PCAD leadership, be established and implement series of "reforms" before any election is allowed to take place.
The EC′s reluctance to organise the election, and its filing to the Constitutional Court, has led pro-government faction to accuse the EC of conspiring with PCAD to scuttle the 2 February election.
While it is unclear whether the government of Prime Minister Yingluck Shinawatra will agree to postpone the election, the verdict is bound to raise the ire of supporters of the Redshirts movements, who view the judicial and other "independent" bodies as sworn enemies of the elected government and former Prime Minister Thaksin Shinawatra.
Many Redshirts were previously angered by the Constitutional Court′s verdict which aborted the government-backed amendment of the 2007 Constitution late last year.
In 2008, the Court also ousted 2 Prime Ministers allied to Mr. Thaksin in what the Redshirts described as dubious legal cases.
For comments, or corrections to this article please contact: [email protected]
You can also find Khaosod English on Twitter and Facebook
http://twitter.com/KhaosodEnglish
http://www.facebook.com/KhaosodEnglish