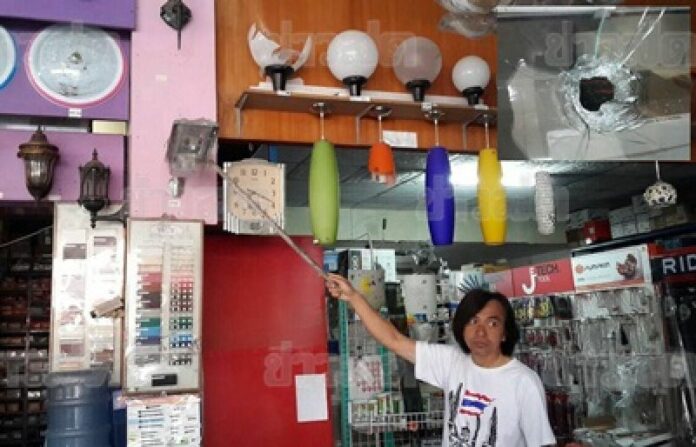 (27 January) An anti-government protest leader in Ratchaburi province claimed that his political view has led to a shooting on his house earlier today.
Mr. Yutthaphon Pathomsatit, 50, a local core leader of the People′s Committee for Absolute Democracy With the King as Head of State (PCAD), reported to the police that his house came under gunfire attack at approximately 02.45 am on Monday.
He told the police that he heard a sound similar to giant firecrackers in the middle of the night, before he noticed that his metal fence and mirror glazed window had been damaged by gunshots.
Police officers led by Pol.Lt. Sukri Praduka, from Mueang Ratchaburi Police, later investigated the residence, which is also operated as a hardware store, and found two cartridges of 9mm handgun.
Witnesses said they had seen a car parked in front of the residence before a number of of gunshots were fired. The car then sped away from the scene.
Mr. Yutthapon said he believes that he was targeted because of his political activities. He has previously led anti-government protesters to close down several government institutions, and actively protested against the government's plan to use Mae Klong River as a floodway.
The PCAD activist insisted that he had never engaged in any dispute with anyone, as he believes it could damage his business. However, he believes that some local residents might disagree with his political perspectives.
"As we are all Thai people. We should debate about the views," Mr. Yutthapon said, "If we disagree, we should both carry on living our lives separately and should not turn violent against each other".
He added, "The incident did not scare me or my family, as we have come beyond that fear. I am determined to move on as a leader and call for a reform before the election takes place".
The incident is the latest act of violence committed by unidentified assailants on anti-government figures. In recent weeks, PCAD supporters and leaders have been targeted by grenade attacks, shootings, and other forms of intimidation.
For comments, or corrections to this article please contact: [email protected]
You can also find Khaosod English on Twitter and Facebook
http://twitter.com/KhaosodEnglish
http://www.facebook.com/KhaosodEnglish