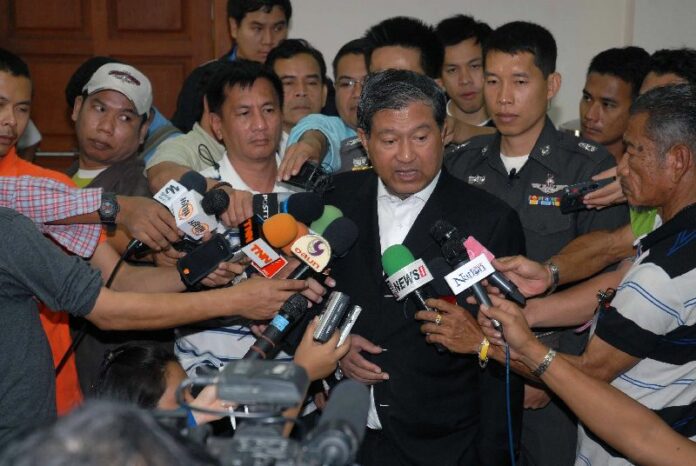 (28 January) Commander of the Center for Maintaining Peace and Order (CMPO) has fled a meeting shortly after he challenged the besieging anti-government protesters.
Supporters of the People′s Committee for Absolute Democracy With the King As Head of State (PCAD) have marched to lay siege at the Army Club on Vibhavadi Road this afternoon, where Prime Minister Yingluck Shinawatra and her Cabinet appointed to hold a meeting.
PCAD threatened to break into the venue and "capture" Ms. Yingluck and her Cabinet members. The protest leaders also demanded the government dissolve CMPO within 24 hours.
But CMPO chairman, Mr. Chalerm Yoobamrung, derided PCAD′s demands. "Are the protesters confused?" Mr. Chalerm asked. He also criticised the PCAD′s threat to surround CMPO headquarters at the Police Club tomorrow.
Nevertheless, he said, the CMPO has already arranged an emergency headquarters venue in Nakhon Pathom province lest "problems" occurred. Mr. Chalerm insisted the plan should not be seen as a retreat, as he is confident he can defend the headquarters from the protesters.
"The protesters have acted too much like gangsters," Mr. Chalerm said, "If they are still acting like gangster by storming Army Club and Police Club, I would like them to storm their own properties".
He added, "We have already warned them, but if they still don′t listen to us, they are welcomed to try".
However, as the protests in front of the Army Club grew more tense, especially after an unknown assailant reportedly fired shots at the protesters, Mr. Chalerm changed his mind and quickly fled the meeting venue through the back exit.
Mr. Chalerm′s current whereabouts is unknown.
For comments, or corrections to this article please contact: [email protected]
You can also find Khaosod English on Twitter and Facebook
http://twitter.com/KhaosodEnglish
http://www.facebook.com/KhaosodEnglish