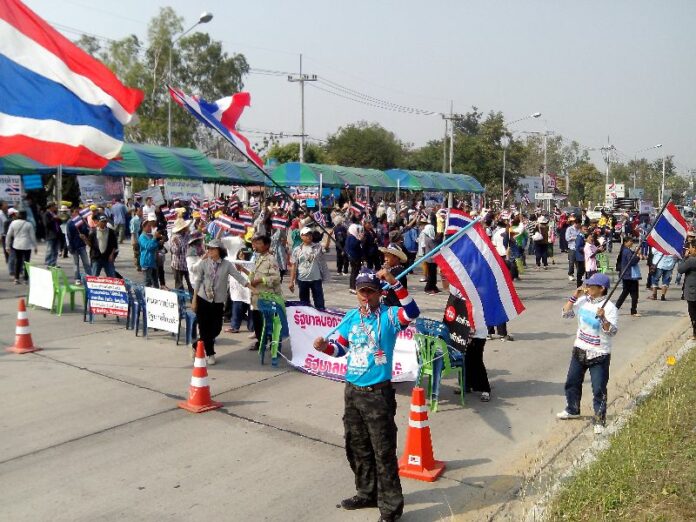 (28 January) Daily violence against anti-government protesters continues, after an explosive was thrown at one of the protesters' rally sites last night.
The target was the camp site maintained by the Student and People Network for the Reform of Thailand (SRT) protesters near the Government House and he Office of the Public Sector Development Commission (OPDC).
One man reportedly suffered a minor injury from the incident.
Mr. Nasser Yimah, leader of the protesters′ guard unit, stated that the "giant firecrackers" were thrown from the National Anti-Corruption Commission (NACC) building at approximately 22.00 last night.
He added that his security team had strengthened the security measures around the protesting grounds. They have also closed all the entrance and exit routes to search for the culprit, but the suspect was not found.
Military Police who stationed nearby also reportedly assisted the protesters in managing the situation.
All evidence from the scene was initially seized by the security team, and Mr. Nasser said they would be handed to the police soon afterwards. The leaders later tried to cheer up the crowd, and the situation returned to normalcy.
On the same night, another incident was also reported from a residence of Mr. Samran Rodpetch, a core leader of People′s Committee for Absolute Democracy With the King As Head of State (PCAD).
Reportedly, unknown assailants threw a grenade into the residence, which is located in Bangkok′s Ram Intra area, causing damages to the living room and one car.
Mr. Samran was not at home during the incident. His wife who was present at the scene was unharmed. The police later arrived at the scene to investigate the evidences.
Anti-government protesters and the residence of their leaders have come under frequent attacks from shadowy assailants in recent weeks.
For comments, or corrections to this article please contact: [email protected]
You can also find Khaosod English on Twitter and Facebook
http://twitter.com/KhaosodEnglish
http://www.facebook.com/KhaosodEnglish