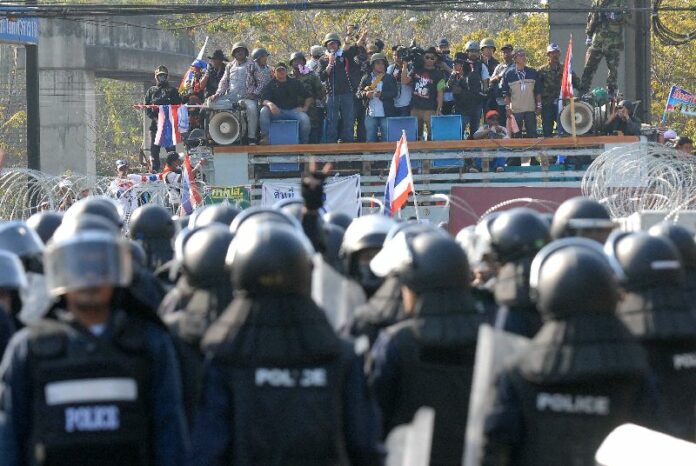 (30 January) A high-ranking police officer has threatened swift legal action against would be election saboteurs on 2 February.
Pol.Lt.Gen. Amnart Anart-ngam, the police commander in charge of overseeing the general election, said the police force is already gathering evidence of anti-government protesters who disrupted the advance voting on 26 January for legal prosecution.
Disrupting or sabotaging the election is a criminal offence under the Thai laws, and carries a penalty of both fines and jail sentence.
"We will take action against every wrongdoer, no matter what political side they are," Pol.Lt.Gen. Amnart said, adding that he is seeking cooperation from the Election Commission (EC) to prosecute these suspects.
For the general election on 2 February, Pol.Lt. Gen. Amnart said, the police will deploy as many as 200,000 officers to safeguard the polling stations across the country, which number at least 93,535 locations in 77 provinces.
The massive police force would be reportedly commanded by 50,000 commissioned officers, and supported by 1,450 ′rapid response′ teams.
"You can say we have committed all the force we have in order to ensure that the election would be peaceful," Pol.Lt.Gen. Amnart said.
The officer added that the situation is particularly worrying in Bangkok and 10 southern provinces – the major stronghold of anti-government movements.
His remark came a day after the leader of the People′s Committee for Absolute Democracy With the King As Head of State (PCAD) reiterated his threats to block and disrupt the 2 February poll with any available means.
Speaking to the crowd of protesters at Pathumwan Intersection last night, Mr. Suthep Thaugsuban vowed to "shutdown Bangkok completely" on the election day. He also urged all civil servants and officials to abandon their posts, and join the protesters in their campaign against the election instead.
"Come join us," Mr. Suthep said," Don′t care about the election!"
PCAD has demanded that the election be scrapped in favour for the formation of an unelected "People′s Council", which would implement series of reforms deemed necessary by PCAD leadership before any election can be held.
Nevertheless, Pol.Lt.Gen. Amnart said he believes there won′t be any violent incident on the election day itself, as there are numerous polling stations which would force anti-election protesters to thinly spread out across the capital city.
"I believe those who wish to exercise their voting rights would not be troubled," Pol.Lt.Gen. Amnart said, "The minority could not possibly force the majority".
For comments, or corrections to this article please contact: [email protected]
You can also find Khaosod English on Twitter and Facebook
http://twitter.com/KhaosodEnglish
http://www.facebook.com/KhaosodEnglish