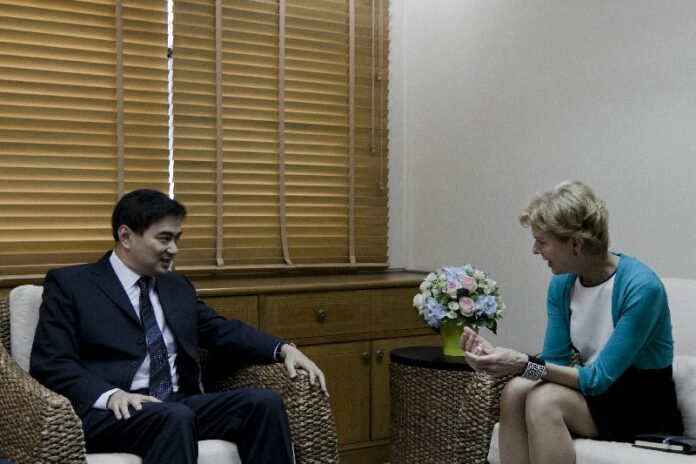 (30 January) Despite his party's call for a boycott on 2 February election, Democrat chairman Abhisit Vejjajiva said he and other party members may go to vote after all.
The Democrat Party has previously thrown support behind anti-government protesters′ call to scrap the 2 February election, citing the needs to "reform" Thai politics before any election can take place.
The opposition party′s demand resonated with the stated objective of the People′s Committee for Absolute Democracy With the King As Head of State (PCAD), which calls for the establishment of an unelected "People′s Council" to rule Thailand as transitional government and implement the "reforms" deemed desirable by PCAD leadership.
All Democrat MPs also resigned en masse in December, adding pressure to Prime Minister Yingluck Shinawatra to eventually dissolve the Parliament, and many of these former Democrat MPs have been actively campaigning for the boycott of 2 February election alongside PCAD core leaders.
However, media reports in recent days suggested that some Democrat politicians might go to vote on 2 February despite their role in boycotting the election, out of the need to retain their legal rights to run for other elections in the next 5 years.
The suggestion enraged many Redshirts, who in turn accuse the Democrats of hypocrisy.
One prominent pro-government commentator, Ms. Taona Sonakul, went as far as urging the public to monitor the polling stations in Bang Na district, where Mr. Abhisit′s voting right is registered, and take pictures of the opposition leader if he shows up for voting.
Ms. Taona also promised 40,000 baht reward for any photos of Mr. Abhisit exercising his voting rights which was denied to many other citizens of the country by anti-government protesters who disrupted the advance voting on 26 January.
Adding fuel to the speculation that Democrat politicians intend to vote, Mr. Abhisit told reporters today after attending a meeting with the US Ambassador that individual Democrat core members can decide for themselves whether to go to vote on 2 February.
"It′s individual voting rights. The party has no duty to command them what to do," Mr. Abhisit said, "If they don′t exercise those rights, they would have to accept the legal consequence of losing their rights".
He added, "So we let each person make decision for themselves. I have already made a decision, too, but I won′t tell you now what I have decided".
Asked whether the Democrats would have to explain themselves to PCAD leader Suthep Thaugsuban, Mr. Abhisit replied that there is no need for such discussion.
The former Prime Minister also expressed his frustration with Ms. Taona′s promise of 40,000 baht in exchange with photos of Mr. Abhisit at the polling station on 2 February.
"I don′t know what she has against me," Mr. Abhisit fumed, "I am not sure whether she wants to intimidate me".
For comments, or corrections to this article please contact: [email protected]
You can also find Khaosod English on Twitter and Facebook
http://twitter.com/KhaosodEnglish
http://www.facebook.com/KhaosodEnglish