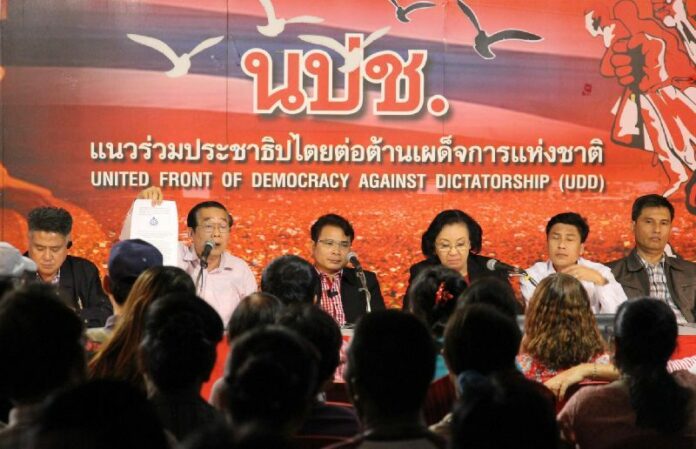 (30 January) The Redshirts have cancelled their rally in Samut Prakarn province on 31 January out of concerns that violent clashes might take place.
Mr. Worachai Hema, former Pheu Thai MP of Samut Prakarn province, made the announcement in a press conference today at Imperial Ladprao shopping mall.
Armed militants might attack the protests and stir the situation toward violence and the eventual military coup, Mr. Worachai said.
Speaking alongside Mr. Worachai, Ms. Thida Thawornseth, the chairwoman of the United Front of Democracy Against Dictatorship (UDD), criticised the court′s decision to start an inquiry into whether the government′s enactment of emergency decree is legal.
"The government has not even used any of the powers granted under the decree," Ms. Thida complained.
She warned that the ultimate goal of the ongoing anti-government protests is not to oust the government of Prime Minister Yingluck Shinawatra, but to overthrow the entire system of democracy and electoral politics in Thailand.
"Many people have now joined with the Redshirts, because ordinary people have come out to defend their rights," Ms. Thida asserted.
The UDD leader also urged local Redshirts leaders to avoid clashes or violence if anti-government protesters try to disrupt the election in their districts on 2 February.
The better way is to file legal complaints against election saboteurs and officials who refused to facilitate the voting, she said.
For comments, or corrections to this article please contact: [email protected]
You can also find Khaosod English on Twitter and Facebook
http://twitter.com/KhaosodEnglish
http://www.facebook.com/KhaosodEnglish