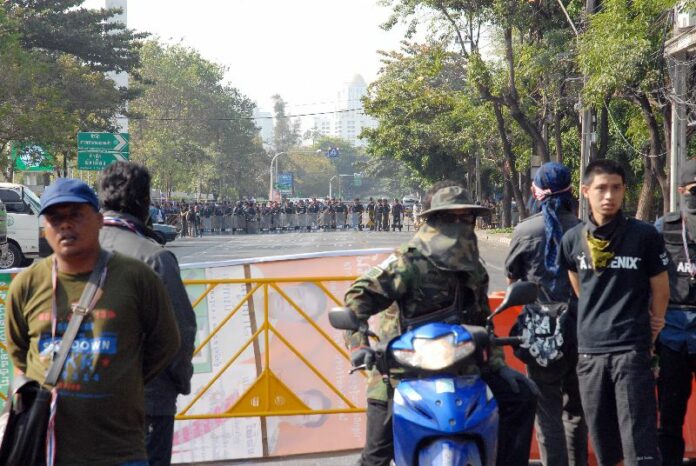 (2 February) Anti-election protesters have surrounded several electoral district offices in Bangkok to prevent distribution of ballot boxers and other equipment.
Protesters led by the People′s Committee for Absolute Democracy With the King As Head of State (PCAD) blocked roads leading to the district offices of Din Daeng and Ratchathewi since early this morning.
The blockade effectively barred officials from distributing equipment necessary for the election to their respective polling stations, namely ballot papers and boxes.
The move threatened to cancel the voting in the entire districts altogether, while some other electoral districts across Bangkok also reported problems such as insufficient number of election officials to oversee the voting.
Voting in the entire district of Laksi has already been called off due to the gunbattle between pro-government protesters and the heavily armed PCAD militants close to the district office yesterday evening.
Ms. Laksana Rojthamrong, District Director of Ratchathewi, said she has tried negotiating with the protesters blocking the election office in her area, but the protesters insisted that they will continue to oppose the election "in peaceful manner".
Permanent Secretary of the Bangkok Metropolitan Administration (BMA), Ms. Ninnart Chalitanond, confirmed that officials have failed to supply polling stations in Ratchathewi and Din Daeng with necessary equipment due to the protests.
PCAD′s strategy of blocking election venues is similar to their effort to disrupt the advanced voting on 26 January, in which numerous Bangkok districts and southern provinces were forced to cancel the voting thanks to the protesters′ blockade.
PCAD has vowed to scrap the 2 February election in favour of the formation of the unelected "People′s Council" to implement "reforms" in Thailand before any election can take place.
For comments, or corrections to this article please contact: [email protected]
You can also find Khaosod English on Twitter and Facebook
http://twitter.com/KhaosodEnglish
http://www.facebook.com/KhaosodEnglish