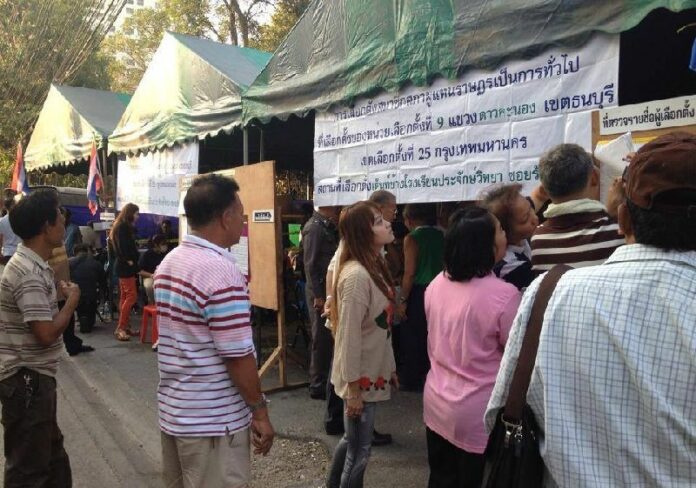 (2 February) Chairman of the ruling Pheu Thai Party has asserted that the Election Commission (EC) is conspiring to derail the 2 February election.
"Their goal is to nullify this election," Mr. Jarupong Ruengsuwan told reporters, "So be it … No matter what the EC is doing, let them do it. It′s all a conspiracy".
Mr. Jarupong made the comment as he arrived at a polling station in Ladprao district to cast his vote – the first person to do so for the station this morning.
He urged citizens who could not exercise their voting rights to file legal complaint against the EC officials and the protesters led by the People′s Committee for Absolute Democracy With the King As Head of State (PCAD).
PCAD protesters have surrounded several electoral district offices in Bangkok to prevent the distribution of ballot equipment, while EC has been accused by governmental officials of failing to organise the voting in many areas.
"We have to hold the wrongdoers accountable. I hope the court would understand and exercise justice in the process, in order to help this country survive," Mr. Jarupong said.
He added, "Conspirators are welcomed to pass the relay batons to each other. It′s obvious. People are not stupid. It′s all clear what is what."
Asked how the government would respond if the election outcome is ever invalidated by the court, Mr. Jarupong gave no direct answer, but insisted that Pheu Thai Party will obey the rules and laws of the country, "but it does not mean these laws cannot be amended".
He also stressed that the rule of the majority and the rights of the people to vote should be upheld for the sake of peace in the nation.
For comments, or corrections to this article please contact: [email protected]
You can also find Khaosod English on Twitter and Facebook
http://twitter.com/KhaosodEnglish
http://www.facebook.com/KhaosodEnglish