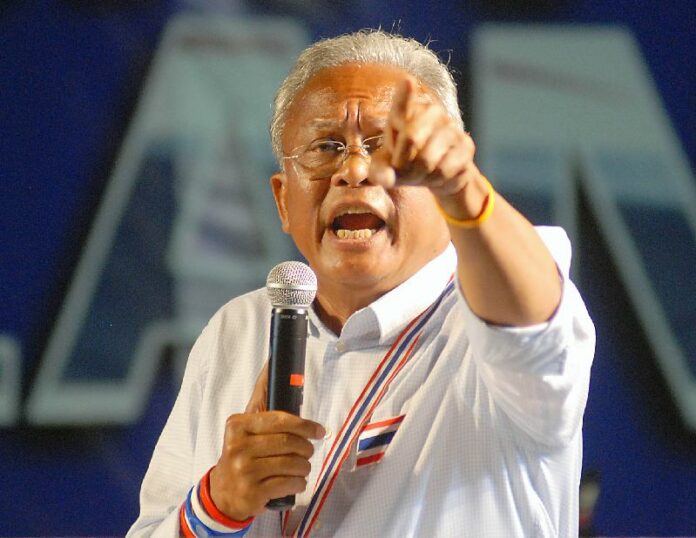 (6 February) Redshirt leader Weng Tojirakarn has criticised the Constitutional Court's verdict that anti-government protesters are merely exercising constitutional rights of assembly.
"The verdict of the court contradicts with reality," such as the the protesters′ siege of numerous governmental offices and their attempt to bar officials from working, Mr. Weng said.
Some supporters of the People′s Committee for Absolute Democracy With the King As Head of State (PCAD) were also seen wielding combat rifles at the protest in Laksi district on 1 February, according to Mr. Weng, who is currently a candidate for Pheu Thai MP seat.
All these actions amount to acts of insurrection against the sovereign government, which is criminalised under the Article 113 of the Thai Criminal Codes, Mr. Weng said, yet the court granted the protesters the rights to continue their campaign against the government.
The Constitutional Court previously ruled that the PCAD has not violated Article 68 of the 2007 Constitution, which forbids any attempt to change the political system by unconstitutional means.
The court insisted that the PCAD is simply exercising the rights of peaceful assembly – which is protected under the Constitution – in response to the government′s pursuit of a legislation that would have absolved the corruption conviction of former Prime Minister Thaksin Shinawatra.
"I′m curious whether the court is in league with Mr. Suthep," Mr. Weng said, referring to PCAD leader Suthep Thaugsuban.
"Mr. Suthep has always addressed the protesters that he is seeking to seize sovereign power of the country," Mr. Weng complained, "Has the Constitutional Court considered this point?"
The Redshirt leader also expressed his dismay that the court appeared to justify the PCAD′s ongoing protests by claiming that they were protesting against the Amnesty Bill pursued by the government in November 2013, even though the bill has already been withdrawn long ago.
"I can′t help wonder, is the court acting like Mr. Suthep′s spokesman now?" Mr. Weng said in the press conference, "I am concerned by whatever the court might be doing".
Furthermore, Mr. Weng urged the court to dismiss the request to nullify the 2 February election filed by the Democrat Party recently.
"I beseech the court to respect the political decision of more than 20 million voters," he said.
For comments, or corrections to this article please contact: [email protected]
You can also find Khaosod English on Twitter and Facebook
http://twitter.com/KhaosodEnglish
http://www.facebook.com/KhaosodEnglish