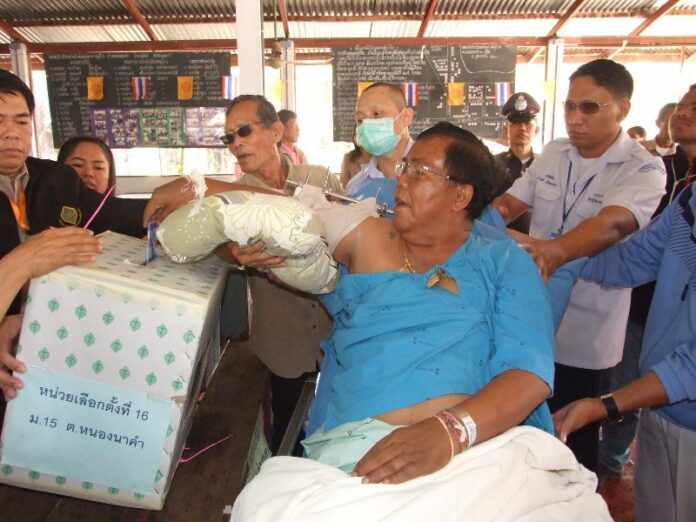 (6 February) The police claimed they have obtained clear CCTV footage of gunmen who wounded the local Redshirt leader in Udon Thani province.
Mr. Kwanchai Praipana, a prominent leader of the United Front of Democracy Against Dictatorship (UDD), was shot and wounded at the front porch of his residence by a group of gunmen on 22 January. The assailants fled the scene quickly after the attack.
The UDD leader suffered severe injuries but has since been recovering in hospital. He said he believed the attack was politically motivated.
Pol.Maj.Gen. Suraphol Pinitchob said CCTV footage obtained by police detectives revealed that the gunmen were divided into 2 vehicles: a silver Toyota with license plate issued in Roi Et province, and an unidentified bronze pick-up truck.
The assailants planned their assassination attempt well, Pol.Maj.Gen. Suraphol said, as they have arrived at a resort hotel in Udon Thani a week before the incident and have spent days surveying the area around Mr. Kwanchai′s house.
On the day of the attack, two gunmen on the bronze vehicle reportedly pulled up at Mr. Kwanchai′s house and sprayed their bullets at Mr. Kwanchai. Pol.Maj.Gen. Suraphol believed the gunmen intend to take Mr. Kwanchai′s life, judging from the nature of their operation.
The officer claimed that "60%" of the investigation has been completed, and many crucial details have been uncovered, such as the possibility that the assailants might have been aided by someone close to Mr. Kwanchai.
"We are gathering additional evidence so we can ask the court to approve the arrest warrants," Pol.Maj.Gen. Suraphol said, "At this stage, we can say that there are at least 3 suspects in this case", although the total number could be as high as 6.
However, Pol.Maj.Gen. Suraphol refused to confirm reports that military officers might have been involved in the alleged assassination attempt on Mr. Kwanchai, contrary to previous police statements.
"The police need to determine from evidence and arrests of the suspect whether they are kon mee see [military men]", Pol.Maj.Gen. Suraphol said.
But sources inside the police force told Khaosod that detectives have already identified at least three Army personnel who were in the alleged assassination team.
The sources added that the police also obtained CCTV footage from an ATM in Udon Thani where the suspects reportedly withdrew money to pay for the expense during their operation.
For comments, or corrections to this article please contact: [email protected]
You can also find Khaosod English on Twitter and Facebook
http://twitter.com/KhaosodEnglish
http://www.facebook.com/KhaosodEnglish