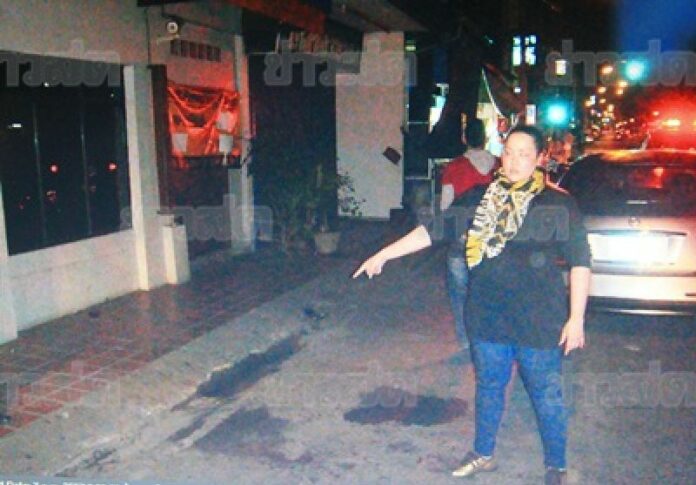 (7 February) Folk-pop singer Lanna Commins told Chiang Mai police she was a victim of a physical assault, which might have been politically-motivated.
The 30 year old singer said she was attacked by a group of people in front of a pub-and-restaurant in Mueang Chiang Mai district last night, where she was drinking with her boyfriend.
While she was at the pub prior to the incident, Ms. Lanna said, the group of assailants who were sitting on the next table started to mockingly imitate her appearance on anti-government protest rally stage in Bangkok on 18 January, in which she performed the hit song "Can′t Be Trusted".
The group consisted of 2 women and 3 men, said Ms. Lanna, a native of Chiang Mai province.
As they were leaving the place later, according to the singer, the group had mocked her famous song again, angering Ms. Lanna′s boyfriend. When her boyfriend reportedly approached the group to ask them to stop teasing Ms. Lanna, the assailants charged at both of them, leading to a brawl.
Ms. Lanna claimed she was punched in her face and her hands. She also told the police she had lost her purse which contained her ID card, cash cards, and approximately 2,500 baht in cash.
She later filed complaint with the police.
Our correspondent added that Ms. Lanna's appearance on PCAD stage had caused dissatisfaction among many residents in Chiang Mai province, which is known as a solid base of support for Pheu Thai Party and the Shinawatra family.
According to Pol Lt Col Kraisri Junphan, Chief of the Chiang Mai Provincial Police, an investigation team has been instructed to study footage from CCTV installed at the restaurant, in order to track down the culprits.
The officer said it is currently unclear whether the attack was politically-motivated. However, Pol Lt Col Kraisri also indicated that the singer is alleged to have previously engaged in fights during her other night-outs in the province.
For comments, or corrections to this article please contact: [email protected]
You can also find Khaosod English on Twitter and Facebook
http://twitter.com/KhaosodEnglish
http://www.facebook.com/KhaosodEnglish