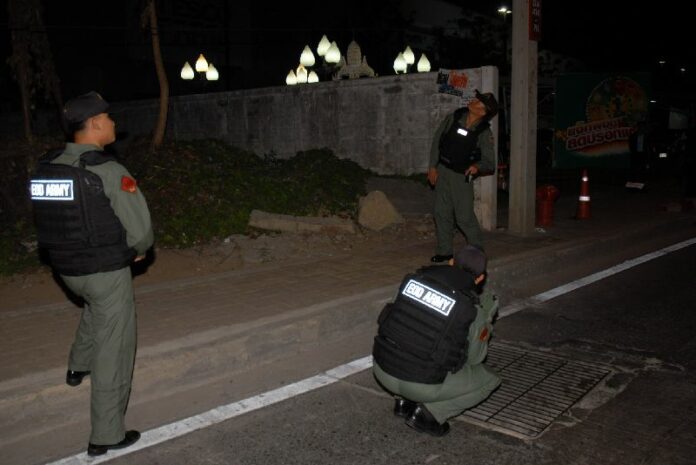 (11 March) Anti-government protest campsites in Bangkok have been targeted by two separate grenade attacks.
The first incident took place at around 23.00 last night near the rally site on Chaeng Wattana Road in suburban Bangkok, which is maintained by supporters of the People's Committee for Absolute Democracy With the King As Head of State (PCAD).
The grenade reportedly landed just 50 metres away from a security checkpoint manned by the Royal Thai Army soldiers, but no injury has been reported.
Another attack occurred inside Lumpini Park in downtown Bangkok where hundreds of PCAD protesters have been camping for over a week. The grenade reportedly hit a tent owned by a group of PCAD security guards at around 06.00 this morning.
When police officers entered the area, they found two Army soldiers already inspecting the blast site. Stains of blood were found around the site, and some of the guards' properties were damaged by the blast.
A PCAD guard was injured by the blast and had been sent to Chulalongkorn Hospital, police said, naming the victim as Mr. Adul Maneesawek, 35, a native of Nakhon Si Thammarat province. He is said to have been wounded by the grenade shrapnel.
A friend of Mr. Adul said he had been sleeping near the tent when Mr. Adul came back to the tent after a patrol duty on the nearby Thai-Japan Bridge as a part of security measures imposed by PCAD leadership.
Shortly after Mr. Adul returned to his tent, a loud explosion was heard, causing injuries to Mr. Adul, according to his friend. Apart from Mr. Adul, two other guards were slightly injured by the blast, reports say.
Police suspect that both grenades used in the two attacks were launched from M79 devices.