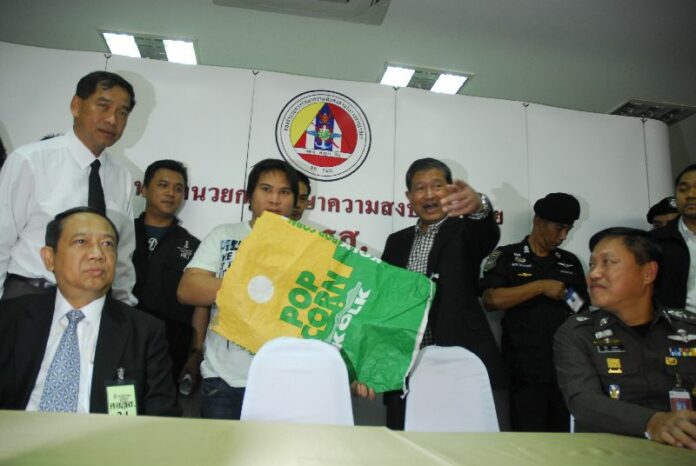 (20 March) The suspect identified by the police as a gunman who engaged in the pre-election gun battle last month claimed he was a member of the anti-government "guards" unit.
Mr. Wiwat Yordprasit was arrested by the police in Surat Thani province yesterday. Police allege that Mr. Wiwat was the man behind the masked militant seen firing his weapon concealed in a popcorn bag at pro-government protesters during the clashes in northern Bangkok on 1 February, a day before the 2 February general election.
While much of the media referred to the masked man as "popcorn gunman", many anti-government protesters praised him as "popcorn hero" who helped "protect" the protesters from their political rivals.
The violence left one elderly gentleman paralysed after being hit by a bullet.
In a police press conference today, Mr. Wiwat said he was an ordinary day-to-day employee before he joined the security unit of the People's Committee for Absolute Democracy With the King As Head of State (PCAD) when the anti-government protests took off months ago.
Mr. Wiwat told reporters he took up the job voluntarily, and he received a daily payment of 500 baht in return. According to the suspect, his squad consisted of himself and three other guards, who operated under the command of a guard leader called Men.
On the day of the gun battle in Laksi district, Mr. Wiwat said, he was handed an M-16 rifle concealed in a large popcorn bag by his squad leader Men, which he used to fire at least 20 rounds in the direction of pro-election demonstrators.
Mr. Wiwat said he returned the weapon to his handler after the fighting subsided and fled to lay low at the residence of Men's wife in Surat Thani before he was eventually arrested.
The suspect said he had not received any combat training prior to the incident. He also claimed he did not know how PCAD guards had acquired the weapon. Police said they still have not located the firearm reportedly used by Mr. Wiwat.
According to a high-ranking police officer, Mr. Wiwat has been a longtime supporter of anti-government causes, having joined rallies since the "White Mask" movements last year.
Police records show that Mr. Wiwat had also been arrested once in Pitsanulok province years ago on narcotics-related charges.