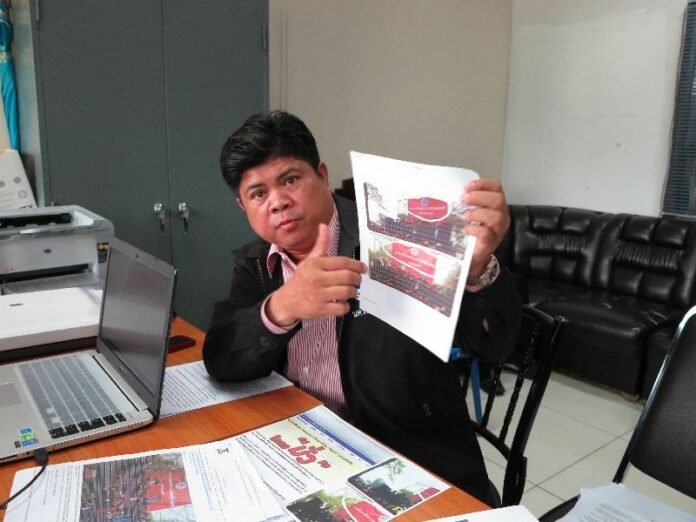 (20 March) A prominent Redshirts activist has pressed charge against an anti-government news network for distributing a doctored photo of his group.
Mr. Suphon Attawong, who also serves as Deputy Secretary of the Prime Minister, was accompanied by his lawyer when he met with the police at Crime Suppression Division in Bangkok today.
The Redshirts leader complained that a group of anti-government critics a social network has altered a photo of him and his fellow Redshirts activists during a ceremony to inaugurate their newly formed group called National Volunteers for Defense of Democracy (NVDD). The photo was reportedly taken on 8 March this year.
In the doctored version of the photo the text on their banner had been changed to read "Red Separatist Force". The picture was later published on the social network sites of T-News, the TV station allied to anti-government protesters.
Mr. Suphon claimed that the altered photo has been mischievously designed to land him and his group under unwanted scrutiny from various military intelligence agencies, since anti-government protesters and high-ranking military officers had previously accused the Redshirts of attempting to secede northern and northeastern parts of Thailand.
To protect his group's reputation from the alleged smearing, Mr. Suphon has pressed charge against the TV station under Computer Crime Act, which criminalises the dissemination of false information on the internet.
According to Mr. Suphon, the NVDD was established by Redshirts activists in 20 northeastern provinces to defend the Nation, the Religion, the Monarchy, and democracy.
"Let me stress that the NVDD does not organise any armed group as it has been alleged," Mr. Suphon told reporters, "We only arm our members with intellectual weapons".
He also explained that the NVDD seeks to oppose, by non-violent means, any military coup against Prime Minister Yingluck Shinawatra or any attempt to overthrow the government by undemocratic means.
Mr. Suphon said his group has been recruiting new members since 8 March, and he expects that at least 200,000 Redshirts across the country will join the NVDD.
However, he insisted that the membership approval process will be strictly conducted by provincial committees of the NVDD to ensure that only applicants with desirable traits would be allowed to join the group.