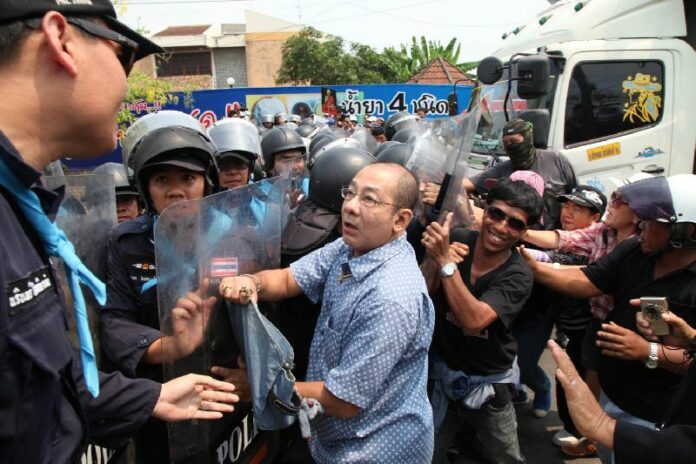 (24 March) Redshirts activists have dismantled the rally stage set up by anti-government protesters in Nonthaburi province today.
Supporters of the People's Committee for Absolute Democracy With the King As Head of State (PCAD) have previously installed a rally site, complete with loudspeakers and a stage, near the office of the National Anti-Corruption Commission in the province.
But pro-government Redshirts under the name People's Radio for Democracy (PRD) later arrived at the scene, and proceeded to dismantle the rally stage.
Police officers attempted to bar the Redshirts from storming the PCAD rally site, but the protesters have broken through the police barrier line by pushing six-wheeler trucks fitted with loudspeakers at the police officers.
A leader of the PRD claimed the operation was meant to "seize back" the area from anti-government protesters. The PRD has held rally in front of the NACC office in the past to protest the Commission's corruption case against Prime Minister Yingluck Shinawatra, and has vowed to stage another rally there.
"We will stay here until 31 March," said PRD core leader, Mr. Sornrak Malaithong.
Although no PCAD supporter was present at the rally site at the time of the incident, fistfights erupted when a monk approached the Redshirts before berating them for their actions and making other impolite remarks to the activists.
Some of the Redshirts became enrgaged and mobbed the monk, who was later rescued from the angry mob by police officers and protest security guards.