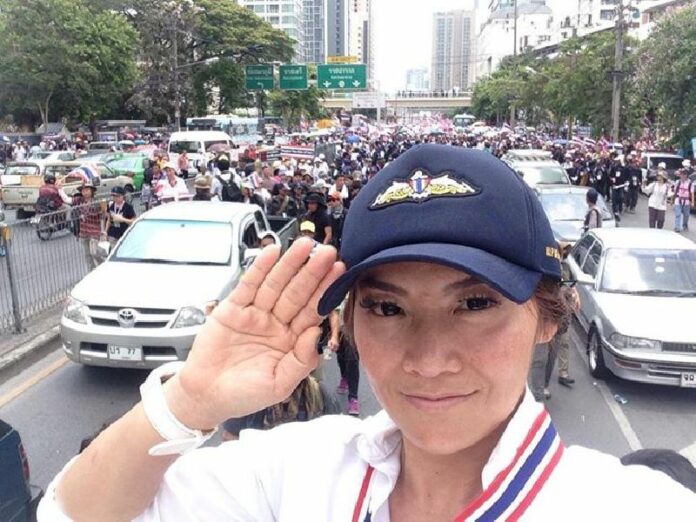 (8 April) The ruling Pheu Thai Party has lashed out at a deputy spokeswoman of the Democrat Party who falsely accused Prime Minister Yingluck Shinawatra of attempting to flee the country.
In a Facebook post – which has now been deleted – Ms. Mallika Boonmetrakul published a photograph showing rows of baggage and boxes at Bangkok's Suvarnabhumi Airport, and alleged that the baggage may have belonged to Ms. Yingluck who is attempting to flee Thailand amid the ongoing political crisis.
Some commentators also posted comments criticising the owner of the baggage for displaying such apparent luxury and unnecessary waste of taxpayers' money.
However, it later emerged that the cargo belongs to Princess Sirivannavari Nariratana, who was flying to a fashion event in London. The post was eventually removed by Ms. Mallika without any explanation.
Mr. Prompong Nopparit, spokesman of Pheu Thai Party, called Ms. Mallika's statement a "distortion with political agenda to smear Ms. Yingluck", and insisted that the Prime Minister has no plan to leave the country.
"Ms. Yingluck and members of the Shinawatra family have no plan to run away from Thailand," Mr. Prompong said, "She has no intention of fleeing, because she has done nothing wrong. Ms. Yingluck has also made it clear that she will stay here to defend democracy until the last second".
Mr. Prompong also urged Democrat leader, Mr. Abhisit Vejjajiva, to take disciplinary action against Ms. Mallika and make her take responsibility for her dissemination of false information.
"If he refuses to do so, we will take it that he conspires with her," Mr. Prompong said in a press conference, adding that Pheu Thai Party will never tolerate such irresponsible actions within the party.
For comments, or corrections to this article please contact: [email protected]
You can also find Khaosod English on Twitter and Facebook
http://twitter.com/KhaosodEnglish
http://www.facebook.com/KhaosodEnglish