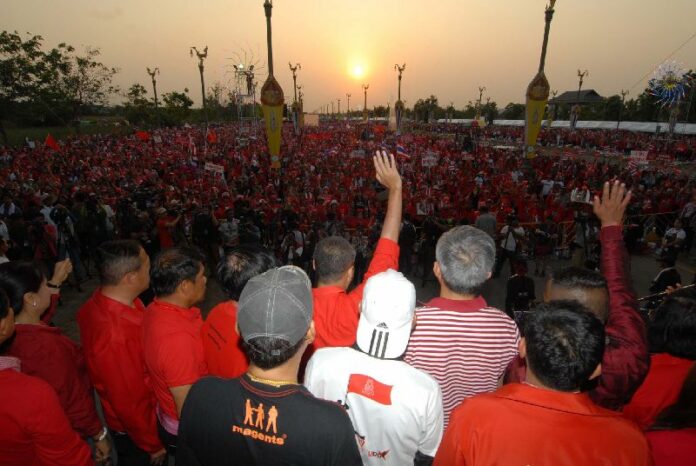 (8 April) A prominent anti-government activist has pressed charges against a legal representative of former Prime Minister Thaksin Shinawatra, accusing him of defaming the monarchy.
Mr. Thaworn Senniam, a core leader of the People's Committee for Absolute Democracy With the King As Head of State (PCAD), arrived at the Dusit Police Station in Bangkok today to file complaints to the police.
According to the activist, Mr. Robert Amsterdam, who has been hired by the former leader to represent him in the international stage, has insulted the Royal Family by urging the government of Prime Minister Yingluck Shinawatra to amend the lese majeste laws.
Mr. Amsterdam delivered the remark in his Skype call to a massive pro-government Redshirts rally in Nakhon Pathom province on 6 April. In his call, Mr. Amsterdam faulted Ms. Yingluck's failure to amend Article 112 of the Thai Criminal Codes, which prohibits any remark deemed offensive to the monarchy.
Although Mr. Amsterdam made no direct mention of the monarchy throughout his speech, Mr. Thaworn said the lobbyist's remarks are sufficient ground for prosecution under Article 112.
"Thailand is ruled by democratic regime with the King as Head of State," Spring News quoted Mr. Thaworn as saying, "Therefore, the penalty for insulting the monarchy should be naturally more severe than the defamation of ordinary people, which is no different to the way things work in other nations".
Mr. Thaworn also demanded that the Royal Thai Police strictly take legal action against Mr. Amsterdam. It is not immediately clear whether the police will proceed with the complaint.
Those guilty of charges under Article 112 can face up to 15 years in prison per offence. A number of academics and rights experts have argued that the law has been heavily politicised and regularly used to repress freedom of expression in Thailand.
For comments, or corrections to this article please contact: [email protected]
You can also find Khaosod English on Twitter and Facebook
http://twitter.com/KhaosodEnglish
http://www.facebook.com/KhaosodEnglish